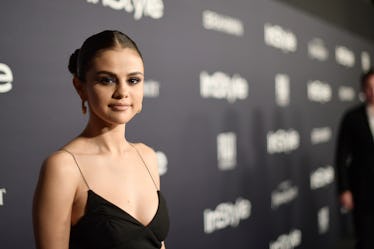 Selena Gomez Looks Unrecognizable With Blonde Hair On The AMAs Red Carpet
Matt Winkelmeyer/Getty Images Entertainment/Getty Images
We all know that Selena Gomez looks great in anything, which is all the more reason for her to feel confident getting a little experimental with her look. So when the dark-haired starlet showed up at the American Music Awards red carpet on Nov. 19 suddenly looking not so dark-haired — we were all here for it. Photos of Selena Gomez's blonde hair has everyone giving the slow clap for her new look.
Gomez showed up to the red carpet looking... well, "fierce" gets kind of overused these days, but she really was. Besides her stunning new platinum look, everything about her style was polished and dangerous. Gomez wore a black leather minidress styled to look like a motorcycle jacket, with oversize lapels, silver buttons and zippers, and decorative stars around her hips. Her shoes matched the look — silver-studded, black stiletto heels. And for such a statement dress, the jewelry and makeup were understated, with natural makeup and elegant, silver double hoops in her ears. The whole thing is really just perfect — as it meant the dress and that amazing new hairstyle got to take center stage.
And of course, that's not even counting that fierce, "I did not come to play" expression on her face. Get it, Selena.
Of course, changing up your hair after a breakup is practically a tradition, so Gomez was pretty due for a new look. The "Wolves" singer just broke up with The Weeknd in late October after a 10-month romance. It was reportedly an amicable split, with the two deciding to part ways due to conflicting schedules and the pressures of being long-distance. But, the breakup also reportedly happened over the phone, which should make anyone who's ever been broken up with wince and take a deep breath. And while fans bemoaned the loss of one of the cutest celebrity couples in Hollywood, it looks like Gomez is bouncing back quickly.
Just a few days after her break up with The Weeknd was revealed, Gomez was seen hanging out with her other ex, on-again off-again honey Justin Bieber. The two reportedly reconnected after Bieber found out that Gomez had undergone a kidney transplant, and reportedly contacted her to check in. Who's to say what happened after, but it clearly meant that they were back in touch, and seriously so. In the next few days and weeks, the two were seen hanging out, having brunch and going to church together, and on Nov. 1 she was photographed wearing Bieber's hockey jersey — which, if not a sure sign that it was a boyfriend loan, had many Jelena shippers pricking their ears.
According to the rumors, the ball is in Gomez's court this time around, and Bieber isn't considering the pair official — or confirming their relationship — until she gives him the OK. But then they also got caught on camera kissing — so, uh, I guess the cat's out of the bag.
But new relationship aside, romantic ups and downs are a great opportunity for a style change.
And Gomez is clearly going for it all the way. Shortly after she debuted her new look on the red carpet, she also debuted it on social media. Because nothing is official until it's been Instagrammed. New look, new you.
The IG photo shows a less polished look than the red carpet photo, with an oversized tee shirt and casual styling (maybe even pantsless levels of casual, it's hard to tell). But the one thing that's not different? That hair looks great.
And as long as she's following the core tenets of the post-breakup hair change (never do it for the guy/girl, only for you), I am here to applaud it. Because there's nothing better than wanting to look good, for yourself.