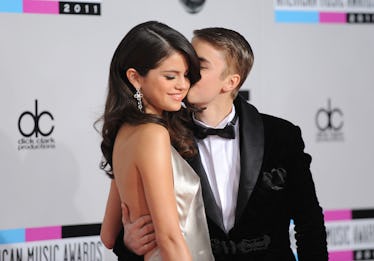 Justin Bieber & Selena Gomez Won't Confirm They're Dating Until She Gives OK, Report Says
Jason Merritt/TERM/Getty Images Entertainment/Getty Images
2017 has definitely been quite a year for Selena Gomez. From her whirlwind romance with The Weeknd to a life-saving kidney transplant, the singer has gone through a lot over the past 10 months. And it doesn't look like things will be slowing down anytime soon either. Countless Jelena sightings following her split with The Weeknd has everyone and their mother asking — are Selena Gomez and Justin Bieber back together? Well, it looks like the answer is yes — but the Biebs is waiting for Gomez to make it official first.
According to PEOPLE, a source close to Bieber says that he's desperate to win back Gomez's heart and is just waiting for her to say the word and make their relationship official. The pair dated on-and-off from 2011 to 2015, but after years apart it seemed like all hope of rekindling their romance was lost. But after a couple of sightings of the two over the past few weeks, and news of the abrupt split between Gomez and The Weeknd after just 10 months of dating, the possibility of Bieber and Gomez getting back together suddenly became way more likely. And with this latest report, all signs are pointing towards a new era for the couple. Jelena 2.0, if you will. Elite Daily reached out to representatives of both Gomez and Bieber, but did not immediately hear back.
Wait, but how exactly did we get here? Wasn't it just yesterday that Selena Gomez was head over heels for The Weeknd?
My thoughts exactly. Since January we've been blessed by the couple's cuteness overload, by way of countless sightings of the pair and via Instagram pics. In May, their iconic official debut at the Met Gala made headlines, where Gomez reportedly whispered "I love you" in The Weeknd's ear while walking the red carpet.
And the two were seemingly going strong throughout the summer and well into the fall. Just three weeks ago, the couple was spotted while spending time together at Universal Studios. I mean, the two even reportedly got a dog together for crying out loud. So what brought Bieber back in the picture?
After Gomez underwent a kidney transplant due to her ongoing battle with lupus, which she announced in an Instagram post, the Biebs reportedly reached out to his famous ex. Apparently the two attend the same church and have reconnected by way of their faith as well. And since the announcement of the singer's split with The Weeknd, the two have been spending a significant amount of time together, so much so that has many fans believing that the two will definitely be back to "on-again" mode in no time.
With this exciting news, let's take a trip down memory lane, shall we? The first romance rumors began in 2009 after Justin Bieber sang his hit "One Less Lonely Girl" (throwback) on Dick Clark's New Years Rockin' Eve with Gomez on stage. Their chemistry was undeniable and sent romance rumors flying.
The two were on-and-off until sometime in 2015 when they officially called it quits. Bieber admitted in an interview with Complex that he felt he lost himself and his identity in Gomez which is what led to their ultimate split.. This interview took place following Bieber's more than one spats with the law — he was famously arrested for a DUI in Miami back in 2014. In that same interview he stated that he wanted to clean up his act and live "like Jesus."
In 2016, Bieber was romantically linked to celebs like Hailey Baldwin and model Sofia Richie. In fact, it was the relationship with Richie that set Gomez off, when she threw shade on Instagram after Bieber complained about fans commenting on his relationship with Richie. She criticized Bieber in a comment on an photo he posted, where she said, "If you can't handle the hate then stop posting pictures of your girlfriend lol – it should be special between you two only. Don't be mad at your fans. They love you."
Then when Gomez and The Weeknd got together at the start of 2017 and began what looked like the picture perfect relationship, it really felt like there was no hope of a Jelena rebirth. But suddenly after the pair split, we started to see Bieber and Gomez spending a lot of time together. And I mean a lot of time together. So, it looks like there's hope after all.
And with this news, I say Jelena fans, rejoice. Your teeny-bop dreams are coming true and one of the world's most iconic couples are almost definitely headed down relationship road. When it comes to love, truly — anything is possible.