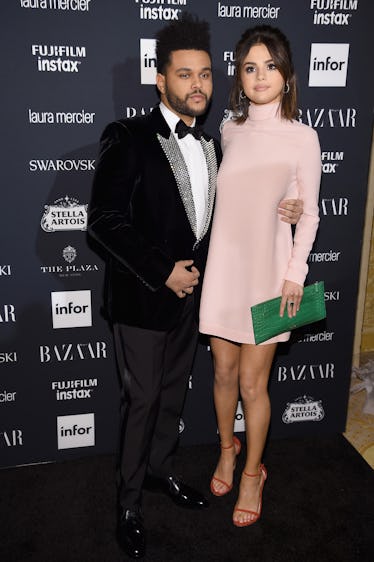 Selena Gomez & The Weeknd Had A Halloween Date At Universal & The Pics Are So Cute
Dimitrios Kambouris/Getty Images Entertainment/Getty Images
It's the most wonderful time of the year! It's the glorious month of October, and everyone is much cooler, happier, and filled with Halloween candy. It really is the the best. Selena Gomez and The Weeknd get it. The two were spotted at the Universal Studios Halloween Horror Nights getting their scare on, and everyone literally freaked out. Also, props to them. It's a really, really terrifying event. I went last year, and I will never go back. These photos of Selena Gomez and The Weeknd at Universal are everything, and it's proof they're the cutest couple around. It's also proof they're not afraid of commitment... or haunted houses. Boom.
Gomez and The Weeknd went to the haunted theme park on Oct. 12, 2017, just in time for Friday the 13th. They're one spooky, magical celebrity couple. Although Gomez and The Weeknd aren't spotted together often, they're definitely still dating and doin' their thang.
Fans at Universal Studios spotted Gomez and The Weeknd, and posted to social media to prove their celeb sighting. If I saw them out and about, I would probably be too nervous to do anything. She's so cool.
The two reportedly began dating in January 2017, but didn't make their relationship Instagram official until April 2017, when they attended Coachella together. Ah, remember those good ol' days? Now they're hanging out in haunted houses. They know how to keep things interesting, that's for sure.
Fans documented their encounter.
Gomez apparently doesn't believe in wearing a waterproof poncho, but the Weeknd certainly does. The couple attended the event with friends, and they captured this adorable moment.
Then this happened, and she probably regretted her decision. Hey, at least she had her hood up.
Gomez and The Weeknd seem to be getting along fabulously. Pretty much everyone loves them as a couple and individually. So, they're sort of a dream team. In a recent interview with Business of Fashion (BoF), Gomez dished on The Weeknd, and it sounds like they're incredibly happy:
My boyfriend just got me a beautiful Chanel bag, and [I love it]. It wasn't because it was a Chanel bag, it's because of where it came from and what it meant. So I wear it so proudly, and I feel cute when I have it on. I feel like, 'I love this!' It makes me so happy. It literally just happened so all my friends are laughing because every time I have it on, I feel a certain way. And that, to me, is an experience.
Aww, how sweet is that? Gomez totally has a school girl crush. Also, good job on the Chanel bag, The Weeknd. You're doing something right.
There is nothing but love and adorable adventures with these two. There are rumors Gomez and The Weeknd also bought a puppy together, according to Elle. Yes, a freakin' puppy. This is big, you guys. First comes love, then comes a puppy... then comes marriage. That's what they say, anyway, right? Can you even imagine what their wedding would look like? I want to go!
Here are pics of the adorable puppy picking.
OMG. That is the cutest little dog I've ever seen. Let's hope Gomez and The Weeknd will start an Instagram page for him, so we can get a full scope of the cuteness factor. I follow more dogs on IG than humans at this point. It's the only way to live.
Now, go out there and live like Gomez and The Weeknd today. Go to a haunted house. Go get an adorable puppy. And forget the poncho. It's time to live a little.
Check out the entire Gen Why series and other videos on Facebook and the Bustle app across Apple TV, Roku, and Amazon Fire TV.