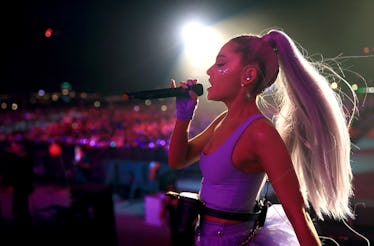 Ariana Grande Went Platinum Blonde Again & I'm Trying To Figure Out If It's A Wig Or A Great Dye Job
Christopher Polk/Getty Images Entertainment/Getty Images
When Ariana Grande first came on the scene as quirky Cat Valentine in the show Victorious, I truly thought her iconic red hair color was a look the starlette could never top. However, she successfully transitioned back to her natural brunette shade after a while, and I loved that, too. Just recently, she graced her Sweetener album cover and merch with photos boasting icy blonde locks, but quickly returned to brown strands once more — so when a post on Instagram let me know that Ariana Grande's platinum blonde hair was back, I couldn't help but wonder if this time, it was the real deal or a great wig.
With so many female celebs using their incredible hair teams and some pricey wigs to change their looks at the drop of a hat, nowadays, a major hair change isn't actually all that major. But for someone like Grande, whose signature hairstyle is a huge part of her image, any hair changes are important moments, and must be regarded as such. Grande went for a wavy, chestnut brunette pony for her recent performance on The Ellen Show, as well as in her new "Breathin" music video, but according to her now-deleted Instagram post on Nov. 8, the singer might be back to blonde once more.
While my immediate reaction was excitement (I love the platinum look for Grande), I had a feeling her new blonde strands wouldn't last long. In fact, something in my gut told me right away that it was probs a wig. When your hair is as important to your image as Grande's, chances are you aren't constantly bleaching the life out of it and then dying it dark at a moment's notice. Grande's hair always looks healthy and shiny in photos and interviews, and anyone who has ever experienced a decent amount of bleach knows that this wouldn't be the case if Ari were really going full-on Marilyn Monroe blonde in just one sitting.
My suspicions were confirmed today, when Grande posted this selfie with her natural brown locks back in action:
Another reason I felt like the blonde was a wig? Ari wasn't rocking her signature high ponytail. It's not always easy to be discreet about wearing a wig when styling an updo, and I've noticed she often opts to wear her hair down or in a low pony when she's living her platinum blonde fantasy:
Even when I can't tell whether she's rocking a wig or actually taken the leap with bleach, I live for Ari's blonde moments, and I think they really suit her. Since the Sweetener era and its blonde vibes got cut short thanks to Grande teasing a future thank u, next album, who knows if she'll keep the platinum look for her next chapter, or if she'll be back to brunette for good. Either way, I know she'll look stunning and kill it, so blonde or brunette (or red? let's bring back the Cat era?), I'm Team Ari FTW.