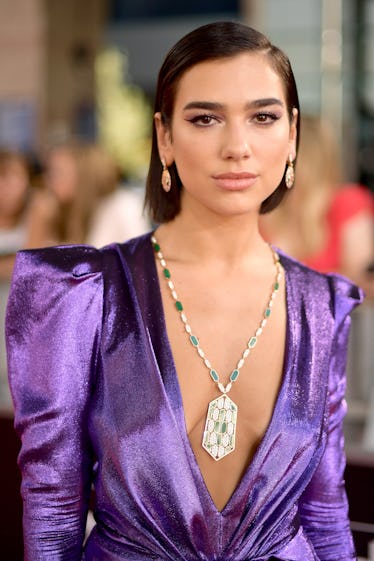 Dua Lipa Just Debuted A Brand New Hair ~Lewk~ & Some Of Her Fans Are Freaking Out
Matt Winkelmeyer/Getty Images Entertainment/Getty Images
Whenever a celebrity undergoes a major change to their look the internet typically freaks out. Especially if said celebrity is mega pop star-slash fashion icon-slash one of the coolest girls on earth. Dua Lipa's new platinum hair is the topic on the tips of the tongues of every pop culture junkie and Dua super fan this week and rightly so—it's as drastic of a change as it sounds.
Lipa uploaded a photo to her Instagram account yesterday in which her short blunt bob has been dyed a super platinum blonde. The very base of her roots reveal her natural chocolate blonde color but the rest of the style is buttery as can be. The bob itself has been styled with a natural tousled look to it and imho, Lipa looks like a total bombshell. (She would look like a bombshell with literally any hair style or color, but still.) Lipa captioned the post, "Electricity. September 6th // Our song and video is coming. I am so excited for you to see this one ⚡️ @iammarkronson@diplo // shot by @pixielevinson," which is beyond exciting. A new song? And video? With Mark Ronson and Diplo?! Thursday cannot come soon enough.
The song announcement reveals one key fact about the new blonde 'do—that it was done for the sake of the upcoming video and that it is not, in fact, Lipa's new permanent hair color. You'll see on her Instagram that the following post on her grid shows her in all of her dark haired glory. Regardless, it's always cool to see what a celebrity would look like with a totally different aesthetic and I've gotta say, I wouldn't be mad if Lipa adapted this one for a long stint. But it appears as if some of her fans would be. While many commenters expressed their love for Lipa as a blonde, others got really—like, unreasonably—upset about the change.
I wonder how they all reacted when Lipa debuted green and blue hair styles last month? In case you missed it, the singer sported a jade green wig while celebrating her 23 birthday in Ibiza among friends. "Went into my 23rd dancing in glitter with pretty much all of my nearest and dearest! What a night! Getting ready to go again tonight ❤️❤️❤️❤️ 23!" Lipa captioned one of the night's photos.
Then, a few nights later, Lipa donned a new rainbow hued wig for the '90s themed night of the festivities. Much like the green one, it featured a lob cut with shaggy bangs but its color was akin to an electric sky blue. Unsurprisingly, Lipa looked impossibly cool in it as well.
While all of Lipa's recent hair color transformations have only been temporary as of late, including the blonde, they've got me crossing my fingers that the singer will opt for something a permanent in the near future. She can rock anything, so why wouldn't she get a little playful and rock a super wild hue for a week or two?