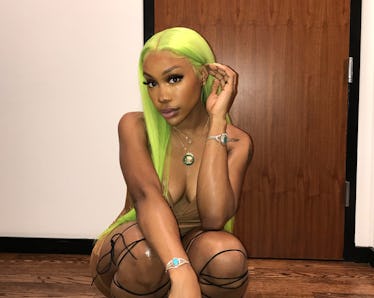 The Green Hair Trend Is Transforming Your Favorite Celebs Into Beautiful AF Aliens
I've experimented with ombré pink, dusty purple, and cotton candy pink hair in the past. Strawberry blonde, white-platinum, and coffee milk brown have also held court on my head. But never has a green hair color ever even crossed my mind as something I'd want to try out. That is, until now, thanks to its championing by some of the most fashionable and just plain rad celebrities around. Kim Kardashian, SZA, and DJ-model twins Simi and Haze have all taken an acidic slime green to their hair in recent months, while Dua Lipa's foray into the hue was a slightly mossier shade. The most important part is that they all totally rocked it — a green movement is among us!
SZA is my ultimate girl crush. Her voice is mind-blowing; her lyrics are truthful, emotional, and empowering; and she's beyond daring when it comes to fashion and beauty. Remember that green feathered dress she wore on Saturday Night Live? She rocked it, just like she's slayed in every other outfit she's ever worn. So when she debuted lime green hair mere days ago on her Instagram account, I wasn't necessarily shocked but I was most definitely delighted. "Dees b*tches ain't slime enuff 🐍," she captioned the photo. (Note her matching polish.)
SZA followed in the footsteps of Kim Kardashian, the ultimate queen of shaking up her beauty look via drastic hair changes what seems like every other day. About a week ago, Kardashian stepped out in Miami wearing a silvery latex dress and sporting waist-length neon green hair. Although her color was slightly less saturated than the shade SZA ultimately picked, it still matched the Lamborghini Kardashian was driving later in the night, after driving in a Ferrari, as seen below.
Another famous duo to hop on the lime green hair train are twin sisters Simi and Haze, who DJ, model, and are among Bella Hadid's closest friends. They debuted their neon locks back in April (was Kardashian inspired by them?!) but in much more artistic form. One of the sisters' bobs featured a colorful streak on each of its sides, while the other's got the ombré effect. They both wore matching acid green outfits for a truly radioactive look.
And then, there's Dua Lipa, who celebrated her 23rd birthday this week in Ibiza among friends and selected a jade green wig to wear for the party. The color was decidedly less neon than the above styles, but no less daring. She stuck with a shorter cut — the wig was cut into a lob with shaggy bangs — and paired her new hair with a shimmery pink jumpsuit and sexy black leather harness. She looked every part the edgy pop princess she is, and I'm not going to lie, photos of her party showing her whole crew going all out with their looks made me seriously wish I was among her inner circle. Who's with me?
If you're thinking of going green, extensions or trying it out with a wig might be the best way to go, at least initially. Applying any vibrant color to your hair takes a lot of damaging bleaching and can be incredibly hard to maintain. Or, you could just follow in the footsteps of Simi and Haze and simply apply it to certain chunks of your locks. However you decide to go, green is up to you.