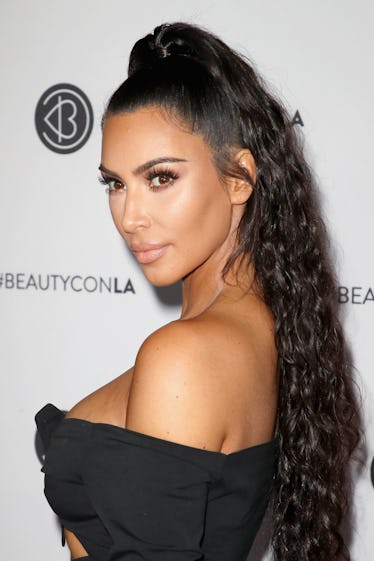 Kim K's Neon Green Hair Matches Her Green Lambo & I Guess My Hair Kinda Matches My Black Corolla
David Livingston/Getty Images Entertainment/Getty Images
During her recent trip to Miami on Aug. 16, Kim Kardashian's neon green hair made quite the appearance. Debuting her latest wig via Instagram stories, the mother-of-three recorded herself driving through the streets of South Beach in a beautiful Ferrari as she and her pal Larsa Pippen listened to Maroon 5's "Girls Like You," and made kissy faces at the camera. But what girl's night is complete without some dessert? The pair made a stop at local hot spot Prime 112 for some deep fried Oreos and ice cream, naturally posting it all for Kardashian's 115 million+ followers to drool over.
The reality star then made her way to the restroom to share a quick snap of her metallic, skin-tight mini dress. But a night on the town with Kimmy and her new wig wouldn't be complete if she didn't have her trusted hairstylist Chris Appleton by her side to give her neon tresses a quick touch-up. "Such high maintenance hair," Kardashian said during the clip. Oh, I'm sure it is. I'm sure it is.
But the best and, of course, most extravagant part of the 37-year-old's night was when she decided that her hair — you know, being neon green and all — wasn't getting quite enough shine by simply cruising around in Miami in a basic, red-interior Ferrari.
Instead, Kardashian decided to make her exit in style by switching to a neon green Lamborghini to match her neon green hair. It's only right, right?
But bright-colored wigs and luxury cars aside, Kardashian has been having quite a bit of fun with her hair in the last few weeks. On Aug. 10, the reality star debuted a short and sleek bob, posting a selfie with younger sister Kylie Jenner. "Happy 21st birthday @kyliejenner baby!!!!!" she captioned the sweet pic. "It's such a trip that my baby sister is 21. So happy to be on this sister and now mom journey with you forever!!!! I love you so much! You will still always be my baby sis and I'm always here for you no matter what!"
However, it didn't seem as though Kardashian was a fan of her new 'do, telling TV host Jimmy Kimmel on his late-night show that she didn't quite feel like herself without her signature long locks. "What do you guys think of my short hair?" she asked fans. "I'm so annoyed that I cut it. I feel cutesy in it. Not sexy. I feel sexy with long hair."
Luckily, Appleton was there to rectify Kardashian's hair dilemma, giving her her a long, wet-and-wavy look just in time for the family outing to celebrate Jenner's milestone birthday.
So what will Kim be doing with her hair next? We will all have to stay tuned to see what stunning new 'do she'll rock next, but for now, it doesn't look like that neon green wig will be leaving the Kardashian household any time soon...
Clearly, it appears Kardashian's daughter North West is having way too much fun playing dress up with mommy's hair.