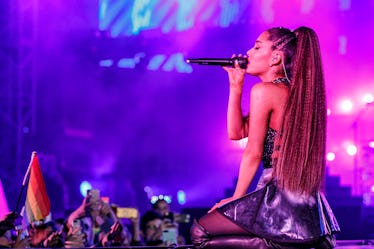 ICYMI, Ariana Grande Changed Up Her Signature Look For Her "thank u, next" Performance On 'Ellen'
Rich Polk/Getty Images Entertainment/Getty Images
Ariana Grande has had to deal with some major changes over the past few weeks, but the one thing that's always stayed consistent is her dedication to a nice-and-tight, straight-and-sleek high ponytail. Whether it's all the way up or styled half-up, half-down, the hair is almost always the same (in a good way!) which is why I was surprised by Ariana Grande's look during her "thank u, next" performance," as well as in her new music video for the single "breathin." Granted, the change she made wasn't major, but it was majorly cute, and it's made me an even bigger fan of her signature 'do.
Even though she's received some backlash for her pony — spoiler alert: she doesn't care if anyone else likes it! — Grande has yet to say thank u, next to her to-go hairstyle, rocking a head full of slicked-back, straight extensions as often as possible. She even stayed true to a stick-straight pony when she changed up her hair color for the Sweetener album cover, trying out platinum blonde and placing said pony closer to the nape of the neck. However, now that she's promoting her newest single, I'm noticing the now-single Ariana is trying out a slightly different look. This makes total sense, because seriously, who doesn't love to change their hair after a breakup?
When Ari posted this BTS look at the "breathin" video, I noticed her sleek strands featured a fluffy, dreamy wave:
Cut to the video itself, which features tons of OMG-worthy hair flips that showcase Ari's new loose, wavy look:
I guess Grande must've heard that waves aren't a major trend this season and decided to prove us all wrong — and she really did. If the queen of straight ponytails deems waves her new thing, I'm most definitely reaching for my curling iron.
The video would've simply been lackluster without this shot of Ari's waves spread out Medusa-style, IMHO:
You'll have to watch for yourself to see just how ethereal her pony looks as it trails behind her on this sky-swinging scene:
If you thought the waves were a one-time thing for the video, think again: judging by Grande's performance of "thank u, next" on The Ellen Show, it's clear her wavy pony is still going strong.
BTW, Ari's not the only singer with waves on the show...
...She's joined by Victoria Monét and Tayla Parx, both of whom also went wavy for the performance!
As someone who just can't pull of straight hair, I couldn't be happier that Grande has decided to join us on the wavy side. I'll definitely be trying out a wavy high pony or half-up look soon, but because I don't have miles of gorgeous extensions, I'll have to work with what I've got. If hair is shoulder-length or shorter, a hot tool like the Revlon Pro Collection Salon Long Lasting Curls Ball Wand ($30, revlonhairtools.com) is a great choice for getting the look; simply wrap large sections of hair around the wand angled away from the face, and when hair cools, brush it out to blend waves and loosen up the look, a la Ariana. If you naturally have length that rival's Ari's extensions, you probably know that the weight of your hair can often cause curls to droop. To remedy this, I recommend the Sultra Bombshell Oval Clipless Curling Rod ($99, sultra.com). The oval shape allows for larger, longer waves, so your hair will look floaty like Grande's, not too limp and not too bumpy.
Since it's necessary to brush hair out to achieve this wavy look, I recommend spritzing some Shu Uemura Texture Wave Dry Finishing Spray ($39, shuuemuraartofhair-usa.com) on your waves after to ensure they won't completely fall out. To lock in the crown at the top of any good Grande-inspired half-up or pony, spritz the UNITE MAXCONTROL Spray ($29, shop.unitehair.com) to set the pulled-back pieces and ensure a shiny hold, sans flakiness.
She's given us new music, a lesson in self love, and a new hairstyle, all in just a week or so. Thank you, Ariana, for this myriad of blessings, and here's hoping your new waves stick around for a few more fire performances, because it's my favorite version of the Ari pony to date.