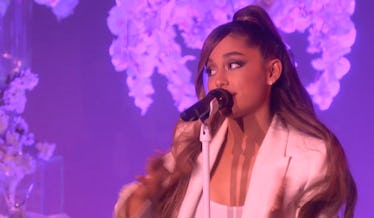 Ariana Grande Tripped While Performing "Thank U, Next," But She Recovered Like A Boss
YouTube/Ellen
Ariana Grande is a professional through and through. Despite a truly trying handful of years, the "Breathin'" singer is coming out stronger than ever. Her album Sweetener is, by every standard, a raging success. Her latest song "Thank U, Next," which honors her past boyfriends, is a total smash. (Her lyrics, actually.) And, even though she almost bit it during a live performance of the new bop on The Ellen DeGeneres Show, Grande kept her cool, like always. The video of Ariana Grande tripping while performing "Thank U, Next" is just another example of how boss this woman is.
Grande's Ellen performance was so much fun. She and two backup singers channeled some serious First Wives Club vibes and dressed up in all white. Grande's stage was decked out like a wedding reception and she even posted a photo holding a bouquet on Instagram. The choreography was also reminiscent of the famous dance scene in The First Wives Club when Goldie Hawn, Diane Keaton, and Bette Middler dance around with white reception chairs to the song "You Don't Own Me." However, things got a little wobbly for Grande when she hopped up on her own chair.
During a verse, Grande took a moment to jump up on a chair and break it down. Everything was all well and good until it was time for the dismount. Upon hitting the floor, it looked like her heel slipped on the shiny stage causing the star to stumble. Luckily, she caught herself, but not before exclaiming, "Oh my god!"
Of course, this queen kept it moving. She barely missed a beat in the song and jumped right back behind her microphone and into the choreography. She did share a laugh with her backup singers, much to the delight of the audience. There's something kind of enjoyable about huge celebrities also being human, ya know?
You can catch her stumble at the 1:15 timestamp, though I highly recommend the entire video.
The other best part of Grande's performance is when she and her singers dance away at the end of the song. She sashays through the audience up to an exit at the top of the stairs. DeGeneres hilariously stands alone on stage exclaiming, "She's gone! She left!" Fortunately, Grande took the hint and ran back to the stage. "We were supposed to come back down?!" she asked. "I thought we were supposed to exit! My bad, I thought we were supposed to exit at the top."
All was forgiven though. Ellen had the opportunity to tell Grande everything her fans wish they could, which was, "First of all, thank you for being here. That was amazing. That was awesome. You've had a rough year. We all love you. We support you."
Say it again! Say it again!
Fortunately, fans will have the opportunity to show Grande so much love once her Sweetener tour kicks off. She'll be coming to a city near you starting in March 2019, and traveling the country all the way through June.
I'm so f*cking thankful for my Ariana! (That's a lyrical reference for you. But also true.)