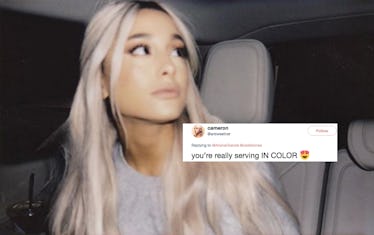 Ariana Grande Revealed The 'Sweetener' Album Cover & It Actually Has A Deep Meaning
Ariana Grande on Instagram/Twitter
Ariana Grande has been teasing the Sweetener album cover for about a week now. The "No Tears Left To Cry" singer appeared to have made an Instagram account solely for the album (or at least her marketing team did), and she's been posting one piece of the full cover to the account every day for the last six days. Late at night on June 18, Ariana Grande's Sweetener cover was revealed in full and it's gorg. Album covers, of course, are always meant to make a statement for the music you're about to listen to. So, what deeper meaning does the Sweetener album cover have?
For starters, Ariana Grande's hair on all of her previous three album covers (Yours Truly, My Everything, Dangerous Woman) all feature Grande on the cover with her signature high ponytail and brown hair. The cover art for "No Tears Left To Cry," however, showed Grande with a different hairstyle (a low pony with platinum/silver hair) for the first time ever. She rocks that same low pony with platinum/silver hair on the Sweetener cover, and although it's a simple change, it makes it clear to fans that things have changed for the singer. But there's another part of the Sweetener album cover that adds even more meaning to it.
All of Grande's past album covers have been in black and white. This is the first time Grande has had an album cover in full color.
This was a deliberate choice Grande made, as the color represents everything Sweetener is about. In an appearance on The Tonight Show in May, Grande dropped her album title, said it would be released this summer, and dished some of the details of the album's songs.
She said the whole album is about taking something bad and making it better. "It's kind of about bringing light to a situation or to someone's life, or somebody else who brings light to your life, or sweetening the situation," she said. So, having her album cover in full color is Grande quite literally bringing light to something. Changing her iconic ponytail and adding color to the cover art are two things Grande has done to make it clear to fans that her life has completely changed.
She's been hella active on Twitter lately, replying to lots of tweets from fans, and she explained the album cover even more in one of those tweets.
One fan tweeted the album cover at Grande and said, "you're really serving IN COLOR." Grande replied, "issa new chapter. for the first time my life is in color as well." That just makes me want to give Grande a hug and never let go.
As for why the album cover is upside-down (as is all of the text on her Sweetener/"No Tears Left To Cry" merch and her Twitter and Instagram bios), Grande explained that choice in a tweet to a fan as well. One fan asked, "how did you come up with the upside down idea?" Grande responded,
i showed aaron a photo and he was sitting opposite me and he said 'i even love it upsidedown' and that was kind of it for me at the time i had been feeling v 'upsidedown' for a while & the simplicity of that was like oh duh wow my bestie a genius. everything clicked after that.
It makes a lot of sense, actually. Change being forced upon you can make you feel like your life was flipped upside-down, but you hopefully come out the other side better for it. And that seems to be what Sweetener is all about. Fans can pre-order Sweetener and hear Grande's new single "The Light Is Coming" on Wednesday, June 20. Get ready, fam.