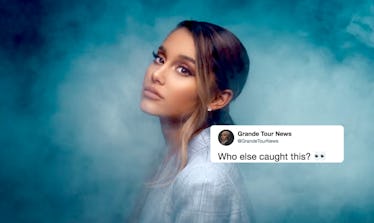 Fans Think Ariana Grande Teased Her Upcoming Song Titles In Her New "Breathin" Video
YouTube
Ariana Grande is having a bit of a week. (Honestly, when is she not? She's Ariana Grande.) Her latest single, "thank u, next," was so instantly popular that it became the biggest single day for a female artist in the streaming service's history. We're talking worldwide, people. Now, she has just released the music video for one of the biggest hits from Sweetener, and on top of the video being visually stunning, Ariana Grande's "Breathin'" music video teases her new songs, according to fan theory on Twitter (what else?).
Grande dropped the "Breathin'" music video on Wednesday, Nov. 7 — not even one week after she dropped "thank u, next." She performed "thank u, next" in an appearance on The Ellen DeGeneres Show that aired on Nov. 7, so she's been promoting that all day. And then, just to make sure her day was extra busy, she gifted fans with the "Breathin'" music video.
In the video, she strolls around a train station looking nervous and anxious, then some of the other visuals show her standing in some ~mystical~ fog and her swinging in the clouds on a literal swing.
It's a look, it's a vibe, it's a video.
Fans, as fans do, think they found a hidden message in the "Breathin'" music video that teases her upcoming new music. Because remember, just because she released an album in August doesn't mean she's slowing down this new music train! Homegirl is back in the studio and already spitting out new singles.
One visual in the "Breathin'" music video shows a list of departures from the train station Grande is chillin' in. Fans noticed that among the scrambled letters are some actual words.
Could these be new song titles?!
The most clearly visible words out of fans' screenshots are "needy," "imagine," and "remember." But another screenshot (albeit an extremely blurry one) does appear to have one line that spells out "thank you, next."
Imma need a magnifying glass right quick.
Here's that blurry picture again, but closer. This fan thinks all of the potential tracks off of Grande's upcoming fifth album are listed here.
If you look closely — I mean closely, closely... like, squint-your-eyes-as-tight-as-they-go-without-being-closed closely — you can slightly make out the spelling of the words. The fan who tweeted the photo says they see "thank you, next," "make up," "seven rings," "NASA," "ghostin," "needy," "remember," and "imagine." That's... enough songs for an album, if you ask me.
Outside of her possibly teasing the tracklist of her upcoming fifth album, the "Breathin'" video shows Grande floating among the clouds — a feeling she said inspired some of the songs on Sweetener.
"Get Well Soon" is all about her anxiety following the Manchester attack at her concert in May 2017. She revealed the song's meaning in a tweet on May 29, 2018.
When a fan asked about the meaning of the song, Grande tweeted back, "isss ab my anxiety. i felt like i was floating for like 3 months last year & not in a nice way. like i outside my body? was v scary and i couldn't breathe well. so it's ab that. & lots of voices in my head singin. i hope it comforts ppl who hear it pls." It's not hard to see the connection between "Get Well Soon" and "Breathin'," given the nature of the lyrics in both of the songs.
Fans are loving the video and all of its hidden/not so hidden messages, so here's hoping she drops a video for "thank u, next" next and comments on these fan theories.