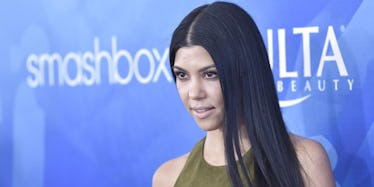 Platinum Blonde Kourtney Kardashian Is The Internet's Best Damn Throwback
REX/Shutterstock
There is a good chance you'll question your existence after you see this picture of Kourtney Kardashian from back in the day.
The Kardashians are not the same people they were as little as 10 years ago. They're significantly more famous, have a buttload more money and all know Kanye's personal cell phone number.
They also look like brand new people.
Case in point, this #TBT pic to when Kourtney (*braces self*) had platinum frosted hair.
You braced?
WHAAAAAAAAAAAAT IS HAPPENING TO KOURTNEY'S HEAD THERE?!?!
I blame Justin Timberlake's fashion sense and persuasive global power for this atrocity.
She actually kind of looks like Ryan Lochte.
Anyways, the rest of the Kardashian family isn't exactly letting God decide how they age either -- that is unless you pray to contouring artists and plastic surgeons.
Kim Kardashian is a completely new person.
Khloé is on another planet now compared to where she was years ago.
I MEAN, JUST LOOK AT KENDALL AND KYLIE.
WHAT. AM. I. LOOKING. AT.
Thank you for reading. I sincerely hope you too become wealthy enough in your life to look at the concept of time, giggle, say "bible" and then just defy the laws of nature.
Citations: Before The Fame -- Celebrity TwitPics (too fab)