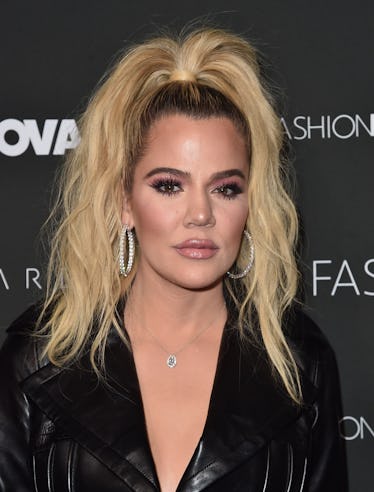 Khloé K Just Posted A Cryptic Instagram About Life Being "Bitter," But Is It About Tristan?
Alberto E. Rodriguez/Getty Images Entertainment/Getty Images
If you've been missing all the cryptic quotes Khloé Kardashian was posting on Instagram on the regular about a month or so ago, I have good news for ya. True's mama is back at it! The Keeping Up With The Kardashians star shared not just one, but two new messages to her story on Nov. 27. And while we have no idea who Khloé Kardashian's Instagram about life being bitter is intended to be about, it's a pretty fun game to try and figure it out. Like, is the reality star just trying to inspire her fans? Or is there a much more personal reason behind the messages? Elite Daily reached out to Kardashian's team about the meaning behind the quotes but did not hear back in time for publication.
Honestly, though, it really wouldn't surprise me if the Revenge Body star posted the quotes with True's dad, Tristan Thompson, in mind. I mean, she's been forced to relive the whole cheating scandal thing over the last few weeks while it's been playing out on Keeping Up With The Kardashians, so it kinda makes sense, y'know? Watching her entire family find out that Thompson was stepping out on her while she was about to give birth can't be easy. In fact, it's probably made KoKo's heart break into a billion little pieces all over again. So I totally don't blame her for going all passive-aggressive with the quotes on her Instagram story, because I would have legit done the same thing, girl!
OK, so let's take a look at Kardashian's missives and see if we can try and solve this little mystery. The first message she shared was this: "When life is sweet, say thank you and celebrate, when life is bitter, say thank you and grow up."
Obviously, this post could be about anything. But the big takeaway I'm getting here is that there's an opportunity to learn and grow when bad things happen in your life. In fact, this quote seems like it's just a more succinct way of getting across the same message Kardashian shared with her fans on Twitter back on Nov. 4 while live-tweeting that night's KUWTK episode.
"To relive these moments all over again is incredibly difficult emotionally," she wrote. "But I also hope that with every trail, tribulation and curve ball life throws at us, that we ALL get to learn from our journeys."
I totally feel that, Khlo!
Now, let's take a look at the second quote that Kardashian shared. "Anyone can find the dirt in someone," it read. "Be the one who finds the GOLD."
Despite the quote being cited as scripture from the Bible, this is not actual scripture, FYI. According to the New Living Translation, Proverbs 11:27 actually reads: "If you search for good, you will find favor; but if you search for evil, it will find you." But ok, internet.
Despite its inaccuracy, the quote really seems like it's about Thompson, doesn't it? The "dirt" could be the fact that he was unfaithful, and the "gold" could maybe be the fact that he's a good father. Obviously, I'm just spitballing here, but it kinda works. And even if the message isn't actually directed towards the NBA player, I think it's pretty impressive that despite everything she's been through, Kardashian is still all about trying to find the good in people.
Thanks for all the inspo, mama!