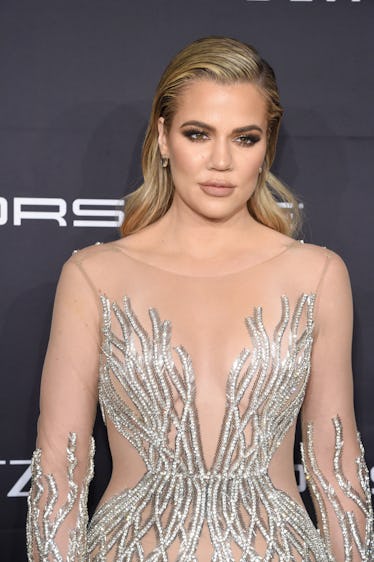 Khloé K Posted A Cryptic Instagram That Has Fans Thinking It's About Tristan Thompson
Jamie McCarthy/Getty Images Entertainment/Getty Images
Um... are you OK, Khloé? My favorite Keeping Up With The Kardashians star hit up social media last night with a pretty cryptic quote, and now I just want to know 1) if she's good and 2) what the whole thing was actually about. I mean, I've done it before — posted a quote entirely out of context that's secretly aimed at someone I'm pissed off at — haven't you? It's no major crime or anything. But now Khloé Kardashian's Instagram about being "broken" has fans thinking it's all about Tristan Thompson, and TBH I kind of think they may be right.
You probably wanna know what the quote was. And I'mma tell you in a minute. But first, here's a quick reminder of all the stuff our girl has been through lately. Because it's a lot. For starters, there was the whole Tristan cheating scandal that erupted while Khloé was busy being pregnant. Then fans went after the new mama for choosing to stand by her man. Then she suffered the loss of her beloved dog Gabbana. And then some truly disgusting humans came at her innocent daughter True by writing horrible, racist things about the color of her skin on social media.
So yeah, KoKo has had a rough go of it lately, and it all seems like more than any one woman could handle. But somehow Khloé seems to be able to keep it all together with a huge smile on her face. And that's kind of what the message on her Instagram story was all about. So without further ado, here it is:
"If you've been brutally broken but still have the courage to be gentle to other living beings, then you're a badass with a heart of an angel," it reads.
Such beautiful words, right? And they really do describe Khloé so perfectly. I mean, if she is not the living, breathing embodiment of a bad*ss with the heart of an angel, then I don't know who is.
Meanwhile, this isn't the first time Khlo has posted something deep and mysterious on Instagram. On Sunday, Sept. 30, the reality star shared these wise words on her story:
"Don't ever feel bad for making a decision about your own life that upsets other people," the quote reads. "You are not responsible for their happiness. You're responsible for your own happiness. Anyone who wants you to live in misery for their happiness should not be in your life to begin with."
Either Khloé is really going through something big right now, or she just discovered f*ckology's Twitter feed and is totally obsessed with it.
And speaking of Twitter, check out this inspirational thought Khloé shared on Oct. 1:
"This is your Monday morning reminder that you are powerful beyond measure," she wrote. "Our words and thoughts can control our day. Choose yours wisely. One positive thought in the morning will change your entire day! You are beautiful! You are strong! You are enough!"
Here's hoping this warrior mama is taking her own advice.