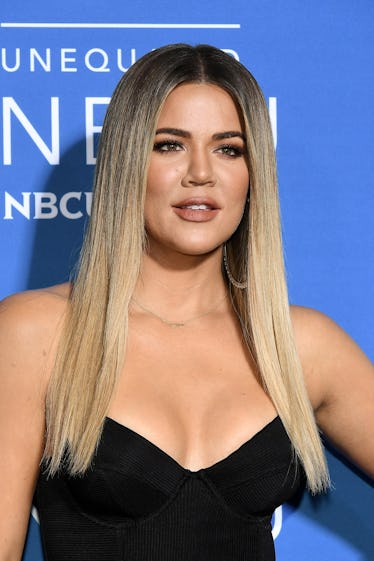 Khloé K Called Out People Making Racist Comments About True With An Important Message
Dia Dipasupil/Getty Images Entertainment/Getty Images
People just can't seem to leave Khloé Kardashian alone. First, they came after the new mama for standing by her man in the wake of a cheating scandal. Then they came at her sweet little girl by posting horrible remarks in the comments next to pics of Baby True on Instagram. And, like, in what world is it OK for adults to bully a baby? The whole thing is so disgusting and heart-wrenching, and Khloé Kardashian's response to people making racist comments about True is not only warranted, but actually so important. I am so happy KoKo took to Twitter to let us all know she is blocking out the hate-filled noise.
It all started on Sept. 15, when Kim Kardashian shared what is probably the cutest pic ever of the three newest KarJenners: Kim's daughter Chicago sitting with little baby True and Kylie's daughter, Stormi. It's the pic all of us Keeping Up fans have been waiting for since the three girls were born within four months of each other last winter. And while the adorable image quickly started racking up the likes, it also attracted a fair share of horrible haters who thought it would be a good idea to point out — and not in a nice way, if there even is one — that Chi and Stormi are lighter-skinned than True.
Here's the pic:
I am so in love with this image. All three of these babies are innocent and beautiful, and for anyone to say otherwise is not just ignorant, it's also evil and pathetic. But sadly, that didn't stop the racist trolls from spewing hate in the comment section.
"Stormi and Chi are cute but True is too black," wrote one commenter in a horrific display of racism. Another called the sweet 5-month-old "rough looking" and a third added that "True got OJs skin genes," a reference to the long-standing rumor that OJ Simpson, and not Robert Kardashian, is actually Khloé's father.
Careful trolls, your colorism is showing.
There were many, many more derogatory remarks left that were directed towards both Baby True and her mama, and honestly the whole thing is just so depressing. What a sad and cruel world we live in when adults try to bring down an innocent five-month-old because of her skin color. No wonder Khloé disabled the comments on all of her recent posts with her daughter. Good. For. Her!
The Revenge Body star also took to Twitter to thank all the fans who have come to her defense.
"Some other people are truly miserable in their lives but I truly try to stay in a place of love and peace," she wrote to one of them. "My baby True is that for me. I'm blocking out the white noise."
"Hate will never ever win in my life!!" she tweeted to another. "I refuse!! Only love."
"Honestly people are disgusting and they are hurting themselves," she wrote to a third. "For anyone to critique a baby is obviously not well."
And to a fourth tweeter, who told her not to let the ugly world get her down, Khloé had this to say: "Never!!! I block out the noise! Thank you for being sweet!!!"
And thank YOU, Khloé, for being such a strong mama! It makes me sick that you had to turn off comments and speak out on Twitter about all the ugly words directed toward your sweet and beautiful baby girl. Neither of you deserves this kind of hate.
No one does.