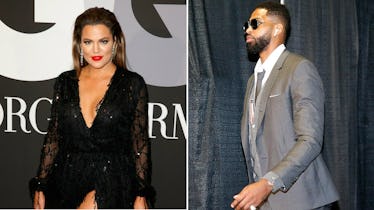 Khloé K Just Addressed Rumors Her Relationship With Tristan Thompson Is "Complicated"
Joe Scarnici/Getty Images Entertainment/Getty Images & Lachlan Cunningham/Getty Images Sport/Getty Images
Khloé Kardashian fans are dying for direct details from the reality TV star regarding her relationship with Tristan Thompson. There's no denying things got, well, complicated when videos surfaced of Thompson allegedly kissing other women and cheating on Khloé. Since then, Kardashian has remained pretty quiet on the whole incident, though it's clear from her actions she and Thompson have decided to work things through. So, you can imagine that when fans spotted her dancing with an "It's Complicated" cup at her sister's birthday party, they stood up and paid attention. However, let's not jump to conclusions. Khloé Kardashian's response to rumors suggesting her beverage of choice was actually commentary on the status of her relationship is awesome. Haters, relax. "It's not that deep."
At Khloé's sister Kylie Jenner's 21st birthday party guests were sipping out of three different colored Solo cups. According to signage at the bar, pink cups were called "Taken," yellow cups were "Single AF," and green cups were "It's Complicated." Pretty cute, right? Based on videos and photos of the event shared on social media, the theme was designed like a glamorous neon college party or spring break event. It was all fun and games until someone snapped a picture of Khloé drinking out of a green "It's Complicated" cup.
One headline read: "Kardashian hints things between her and Thompson are difficult as she parties without him." Another Instagram user commented, "At least she's being honest." Kardashian caught wind of the lame story and jumped online to set things straight. She commented,
People are reaching. I ordered a drink, it came in a cup, I drank it. End of story. Not that deep lol I'm sure I drank out of every colored cup that night.
Ya hear that, everybody? NOT EVERYTHING IS A SIGN.
From here, Kylie's 21st birthday looked like a freaking blast. All of her sisters were there to celebrate, joking around that it was all of their 21st birthdays, too.
Kylie posted a series of photos from the evening showing off the decor, theme, and yes, those party cups. She captioned the pics: "Perfect night."
While it's true there were no signs of Thompson at the party, his absence could be due to literally anything. For example, maybe he was home watching his daughter, True. Khloé was recently mommy-shamed for attending a charity event without her daughter. When one troll asked who was watching her daughter, Khloé replied, "her dad but thanks for being so interested." Maybe, she told Thompson she was taking the night off to celebrate Kylie and it was his turn to be on parent duty again.
Regardless, let's all get one thing straight: Kardashian and Thompson are working through their sh*t on their own time and will update us if and when they're ready. In the meantime, let's not make mountains out of Solo cups, know what I'm sayin'?
Check out the entire Gen Why series and other videos on Facebook and the Bustle app across Apple TV, Roku, and Amazon Fire TV.