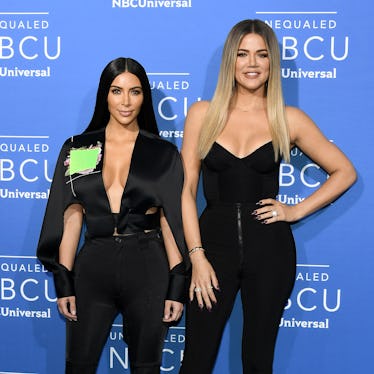 The New 'KUWTK' Promo Shows Kim K Reacting To Tristan Thompson's Cheating Reports
Dia Dipasupil/Getty Images Entertainment/Getty Images
We had a feeling this day would come and now it's finally here. E! just dropped a brand new trailer for the current season of Keeping Up With The Kardashians and lemme just say that the drama is real. Because we finally get to hear what the Dash Dolls have to say about all those rumors re: Khloé Kardashian's beau stepping out on her while she was preggers, and I am so ready, sis! Seriously, the video of Kim Kardashian's reaction to Tristan Thompson cheating reports proves that she is a total queen, and that she's the sister who will always have your back no matter what. Get 'em, Keeks!
But let's back up for a sec because it's been a minute since this whole controversy first went down, and so many other things have happened since then. Like, Baby True was born, Khloé moved to Cleveland, then she moved back to Los Angeles to be with her fam. Now she's reportedly getting ready to head back to Cleveland again. So, like, maybe it's time to invest in your own private plane, Khlo? Just a thought.
Anyway, if you'll recall, the couple was at the center of a pretty big cheating rumors scandal back in April 2018, right before the Revenge Body star was due to give birth. I mean, there were videos of the 27-year-old NBA star seemingly kissing other women.
We first heard that Khloé would address the rumors on Season 15 of Keeping Up with the Kardashians via a report from Us Weekly back in June.
"They always discuss real life things on the show," a source told the publication. "They've never ignored a topic. It will definitely be brought up, but they don't know how much. They can film hours about it, but in the end, Khloé is one of the executive producers and will have final say on what actually makes air."
Well, it looks like Khloé really decided to go for it. "The things I can control I have to be able to control," she says in the trailer as she's about to go into labor. Is she talking about Tristan? The baby? That's all TBD. But we also have Kim, who's seemingly on the set of a photo shoot, talking to someone on the phone.
"They have another video of him?" she asks. "Unfollowed. I hate him. Sorry, not sorry."
Damn, girl!
Of course, by the time Khloé's birthday rolled around in June, Kim was posting videos on Insta of herself pretty much begging Tristan to unblock her. (He did).
I seriously love how loyal Kim is. We also get a sad little dose of reality from Kourtney's ex Scott Disick in the new trailer — "Nobody in this family can ever catch a break" — but it's actually Momager Kris who gets in the best line.
"These guys, are like, always going for sloppy seconds," she said.
Tell 'em, Mama!
The clip closes with Khloé laying in her Cleveland hospital bed about to give birth. "I hope everyone gets here in time," she says.
The whole thing is intense AF and I seriously cannot wait to keep up!
Watch: