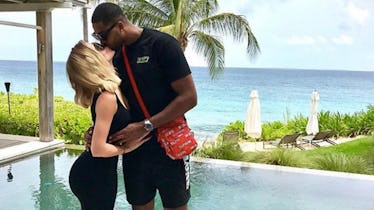 Tristan Thompson Sent Khloé Kardashian The Sweetest Gift After Her Dog Died
Instagram/Khloe Kardashian
And the best boyfriend award of 2018 goes to: Tristan Thompson. We all know that dealing with the loss of a pet is one of the most heartbreaking things to go through, so when Khloé Kardashian announced that Gabbana, her 14-year-old dog, passed away, Thompson went straight into boyfriend mode and tried to ease Khloé's pain just a bit. And Tristan Thompson's gift for Khloé after her dog died will make you actually make you feel ALL of the emotions.
On Jan. 31, Kardashian took to Instagram to deliver a heartfelt message about the death of Gabbana.
Warning: If you've ever had a pet, then this post will probably make you sob.
The post read,
Last night my sweet Gabbana passed away. She was more than a pet. She was my first child, my companion and my friend. She was incredible! She made sure I was never lonely even during lonely times. The house will never be the same. I never thought I would be this devastated over loosing a dog but 14 years, is a long time together. She filled a significant role in my life and I'm forever grateful. I love you Goober!! I'll remember you always!
And if that wasn't sad enough, she posted several photos of Gabbana looking like the floofiest, most sweetest dog to ever live:
Yes, I'm crying. No, I don't care who knows it.
So, what does Tristan Thompson do for his baby mama? Oh, you know. Just sent her the most beautiful floral arrangement that was made in the shape of a dog's paw. Kardashian posted a photo of Thompson's gift to Instagram, along with tagging his Instagram username, to show the entire world that he is actual #boyfriendgoals:
Next to the photo, the caption read,
Thank you baby for being so thoughtful! This gorgeous arrangement brightened up my day! You are the sweetest my love!
Is there anything so pure as paw-print shaped flowers to honor a furry friend?
No, there isn't, and now I'm weeping.
According to Kardashian's personal website, Gabbana was initially the family dog, but after Kris and Caitlyn Jenner divorced, Kardashian asked if she'd be allowed to take her. She said,
I've always been an animal lover. When I was a kid, I wanted to be a vet when I grew up, and had this insane plan to drive around in an RV and pick up stray animals, LOL. So when my mom and Bruce separated, I was immediately like, "Let me take Gabbana!" She was the family dog, and since Kendall and Kylie both moved out, I thought Gabbana was lonely. I wanted her to have a fun home again!!!
Khloé Kardashian, veterinarian to the stars. Can you see it now?
I so badly want this to be a thing.
She was definitely a great dog mom, but now we're excited to finally get to see Kardashian become a real-life mom after revealing her pregnancy with a photo of her growing baby bump (and an appearance from Tristan Thompson's hands) on Instagram on Dec. 20, 2017:
Part of Khloé's caption read,
My greatest dream realized! We are having a baby! I had been waiting and wondering but God had a plan all along. He knew what He was doing. I simply had to trust in Him and be patient. I still at times can't believe that our love created life! Tristan, thank you for loving me the way that you do! Thank you for treating me like a Queen! Thank you for making me feel beautiful at all stages! Tristan, most of all, Thank you for making me a MOMMY!!! You have made this experience even more magical than I could have envisioned! I will never forget how wonderful you've been to me during this time! Thank you for making me so happy my love!
Khloé, we're so happy that you've found a man who is going to be a great father and, of course, an excellent, flower-giving boyfriend for whenever you need cheering up.