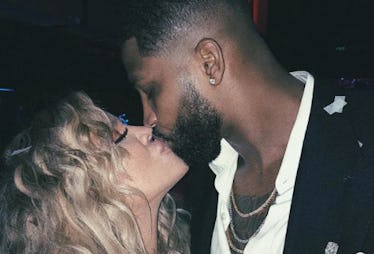 These Photos Prove Khloé K & Tristan Thompson Were The Cutest Couple On New Years
Khloé Kardashian and Tristan Thompson are adorable as hell, OK? And they proved that on Khloé's Snapchat story on New Year's Eve. Khloé Kardashian and Tristan Thompson's New Year's photos prove these two are in complete bliss with each other, and I'm honestly giddy over them. The reality star posted a bunch of photos and videos on New Year's Eve, mostly of Thompson dancing and then capped off with a shot of their ~New Year's kiss~. It doesn't look like they spent the holiday at Kim and Kanye's house, however. It looks like they spent the holiday in Cleveland, where they're basically living together while Thompson is still in his #sportsball season.
Throughout the night, Kardashian posted videos of Thompson dancing and having a great time. She posted lots of selfies, of course, and it's all very glam. The mom-to-be also completely rocked her NYE look, which included the most epic curly hairdo I've seen all year. TMZ posted a video taken by Thompson that showed him and Kardashian in a limo on their way to a New Year's party. In the video, Thompson comments on how incredible Kardashian looks while six months pregnant, and it's enough to melt even the most frozen of hearts. In part of the video, you can hear him saying, "You're six months?! You're a fine looking six months." Honestly, hot.
This was Kardashian's New Year's Eve look. I live.
And these are all the adorable photos of her and Thompson from their Snapchat stories documenting the happy holiday.
What did I tell you?! Freaking adorable.
After months of waiting, Kardashian finally confirmed on Dec. 20 that she and Thompson are expecting their first child together, reportedly a girl! In an heartfelt Instagram post, Kardashian penned,
My greatest dream realized! We are having a baby! I had been waiting and wondering but God had a plan all along. He knew what He was doing. I simply had to trust in Him and be patient. I still at times can't believe that our love created life! Tristan, thank you for loving me the way that you do! Thank you for treating me like a Queen! Thank you for making me feel beautiful at all stages! Tristan, most of all, Thank you for making me a MOMMY!!! You have made this experience even more magical than I could have envisioned! I will never forget how wonderful you've been to me during this time! Thank you for making me so happy my love! Thank you to everyone for the love and positive vibes! I know we've been keeping this quiet but we wanted to enjoy this between our family and close friends as long as we could privately. To enjoy our first precious moments just us ❤️ Thank you all for understanding. I am so thankful, excited, nervous, eager, overjoyed and scared all in one! But it's the best bundle of feelings I've ever felt in my life! ❤️❤️❤️
And she has blessed us with amazing photos of her baby bump ever since.
First of all, the ponytail. Second of all, this is everything.
He commented on Kardashian's post and said,
My love, Thank you for allowing be to be apart of your journey and entering your life that day at the bel air hotel. One of the best moments in my life. I'm soo happy to be on this journey together with you and creating this angel from the man above. Everyday I give thanks to him for bring us together. I love you soo much and I know our little angel feels the love we share together and will know that mommy and daddy loves them unconditional forever and ever amen. Btw, shoutout the brodie @brandonjennings for bringing this King and Queen together. Love my G
UGH, I LOVE THESE TWO. Happy freaking New Year, you love birds.