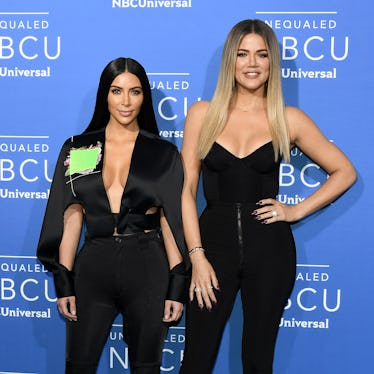 This New 'KUWTK' Clip Shows Tension Between Kim & Khloé Following Tristan Drama
Dia Dipasupil/Getty Images Entertainment/Getty Images
From the looks of a new clip from the Sunday, Nov. 25 episode of Keeping Up with the Kardashians, it seems like sister drama is in full swing as Kim and Khloé's relationship faces challenges after some tension involving Tristan Thompson, father to Khloé's baby True. In the new Keeping Up With The Kardashians clip, Kim says Khloé "lives a full double life" while talking to Scott Disick about her younger sister — and TBH, he surprisingly has some pretty good words of advice for Kim.
But first, let's rewind to the drama from the Nov. 17 episode that covered the Tristan Thompson reportedly cheating on Khloé scandal. Per Daily Mail, he was found reportedly kissing multiple women just days before Khloé gave birth to their daughter, True, on April 12, 2018. Elite Daily reached out to Khloé's and Tristan's representation for comment at the time, but did not hear back at the time of publication. In the ep, Tristan apologized to the family upon Khloé's return from the hospital, but Kim wasn't buying it.
Despite the off-camera apology, a new KUWTK clip from Nov. 25 reveals that Kim thinks Khloé is completely avoiding her because of Tristan. She even goes so far as to say she thinks that "Khloé is living a full double life."
Kim says in the clip,
I feel like Khloé is living a full double life. She's in town and I just haven't seen her. I just feel like Tristan's here and she's so nervous for him and I to see each other. I feel like I just get into this protection mode where I just, like, go into, like, worst case scenario.
Elite Daily reached out to both Kim's and Khloé's representation for further comment, but did not hear back at the time of publication.
Though Kim's protectiveness over her sister is totally understandable, Disick offers Kim a new perspective, urging her to let Khloé live her life and do her own thing. He says in the clip,
Yeah, I think everybody wants to be protective of their family. But I think sometimes, when people get too caught up, when it's, like, a negative protection, everybody feels kind of, like, attacked ... now your sister's in Calabasas, flew home, and doesn't want to see you. So it's like, what did you solve?
Look at Lord Disick sliding in with some solid advice.
In the previous week's episode, Kim revealed that she believes Thompson had ulterior motives for apologizing. She said in the clip, "I told him 'I think you're more remorseful because it's affecting your job.' ... I think he's more embarrassed that he looks stupid."
In a side interview during that same episode, she continues to describe the meeting in Cleveland with Thompson, following True's birth back in April. She says,
We went back to have this, like, family talk with Tristan. No cameras were there and we really wanted it to be a private talk, but we all expressed how we felt ... I think the convo was going ok at the beginning and then it got heated and, I don't know, it took a left turn ... since he is the father of Khloe's baby I definitely wanted to take the time to hear what he had to say.
Oh, and don't forget about this clip from the Nov. 25 ep, in which Kim realizes that Tristan has blocked her on Instagram. Yeah, it looks like this past spring was a drama-filled time for the famous fam. Never fear, though, it looks like Kim was unblocked not too long after, on June 27, which also happened to be Khloé's 34th birthday, per E! News' Instagram post of Kim's Snaps from the day.
Despite her sister's skepticism about the Cavaliers player, Khloé happily spent Thanksgiving in Cleveland with Tristan and True while the rest of her family celebrated in California. She also tweeted the day after Thanksgiving to tell fans that her Thanksgiving away from LA was by no means an indication of drama. She wrote, "Y'all are reaching now. I've spent the past 3years in Cleveland for Thanksgiving. Not sure why people are trying to create drama between my family and I. My sisters and I are perfectly fine thank you!"
Whatever happens next with Thompson, I'm sure these famous sisters will find a way to resolve the drama and tension like they always do.