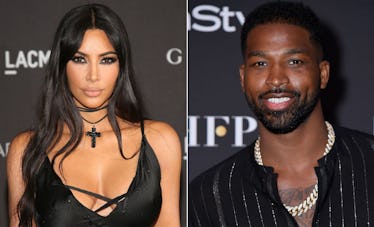 Kim K's Reaction To Tristan Thompson Blocking Her On Instagram Is Pretty Intense
Jesse Grant/Getty Images; Michael Loccisano/Getty Images
Watching the whole Tristan-Thompson-cheating-on-Khloe-Kardashian thing play out on Keeping Up With the Kardashians has been hella awkward. Like, I kinda forgot about how mad I was at the Cleveland Cavaliers star until I had to relive it all, you know? OK, fine — rewatch it all. Whatevs. Either way, it's been super weird to see Khloé all chill with her man while she's about to give birth. Meanwhile, her big sister has emerged as my new hero, because she totally has KoKo's back. And the video of Kim Kardashian's reaction to Tristan Thompson blocking her on Instagram is priceless, I tell you. Priceless!
But hold off on that for a sec. Because if you haven't seen the clip of KKW shadily sticking her tongue out and dragging her finger across her neck behind Thompson's back while Khloé's just casually, y'know, in labor, then you need to watch it ASAP. The video — from the episode of KUWTK that aired on Nov. 18 — is necessary viewing in order to 1) fully understand how loyal Kim is to Khloé; 2) fully appreciate Kim's reaction to being blocked by Tristan; and 3) fully grasp the extent of my new girl crush.
So here you go... Feel free to skip ahead to 0:42, because that's where all the magic happens.
I mean, if that doesn't deserve some kind of award for Best Performance By A Sister In The Wake Of A Cheating Scandal, then I don't know what does.
Oh, and then we get another stellar sneak peek of Kim in a trailer for the next KUWTK episode. And yes, this is the one where she suddenly realizes that Thompson has blocked her.
OK, so the clip starts off with Kim relaying to Kourtney how she told Khloé that she unfollowed Thompson on Instagram.
"Does he follow us?" Kourt wants to know.
"I don't know," Kim replies as she scrolls through her phone. "That's going to be a rule. I'm not going follow to any boyfriend or anything because it's so awkward when I have to unfollow. You have to practically be married at this point. That's the rule."
It's not a bad rule. I mean, I'm just spitballing here, but I feel like Dua Lipa could totally add it in right after 1) Don't pick up the phone and 2) Don't let him in. Then it could go 3) Don't let your sisters follow him and 4) Don't be his friend.
Shut up, it totally works and don't even try to tell me otherwise. You're welcome, Dua.
Anyway, Kim's just scrolling through her phone — which, by the way, is housed in a case that has pictures of herself all over it, because of course it does — when she suddenly realizes that Thompson has shut her down.
"He blocked me!" she tells Kourtney in disbelief. "What a f*cking loser. Literally what a f*cking loser."
So Kim then calls Khloé to share the news. "He blocked me on Instagram," Kim tells Koko. "Like, how old are you?"
"He's 27," Khloé, 34, responds. "Only 27-year-olds even know how to block. I don't even know how to block someone."
I'm willing to bet Kim "It's so awkward when I have to unfollow someone" does.
"Oh, it's on," she tells her sister. "When I see him, I'm going to, like, spit on him."
So, did that ever happen? We may never know (though, my guess is probably not). What we do know is that Kim is the best sister ever, and that Thompson eventually unblocked her after she begged him to at Khloé's birthday party. She then posted a video of him actually doing it in real time on her Instagram story, because vids or it didn't happen, dolls!
My favorite part is Thompson's 3-2-1 countdown, what's yours?
Never change, Kardashian fam. Never change.