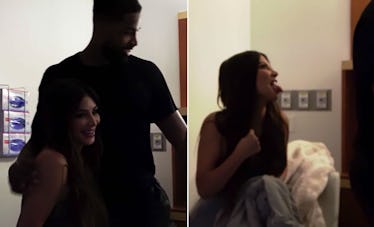 Kim K's Reaction To Seeing Tristan Thompson While Khloe Was In Labor Is So Shady
YouTube
It's not exactly a secret at this point that Kim Kardashian has not exactly been Tristan Thompson's biggest fan. After Thompson cheated on a pregnant Khloé Kardashian, it makes sense that the Kardashian siblings had some doubts about Thompson being a part of the Kardashian clan. And now, in a sneak preview from Sunday's Keeping Up with the Kardashians, there's a video of Kim Kardashian making faces at Tristan Thompson behind his back as they're all together in the hospital supporting Khloé while she's in labor. And believe me, this takes things to an entirely new level of shade.
So let me paint you a picture. As Khloé is in her hospital bed, going through contractions, we see momager Kris Jenner, Kim, and Kourtney all in the room, excited to have made it to the hospital in time before True's birth. Of course, Tristan Thompson is in the room as well, but remember, this was pretty much immediately after the cheating drama that occurred, so things are beyond tense in that hospital room.
"I am so relieved that we made it and that we will be able to help Khloé through this delivery," Kim said in a confessional-style taping.
Then, we see everyone in the hospital room chatting, and Kim asks if there is a bathroom, and Khloé points to a door that's conveniently located behind Tristan. That's when some glorious footage of Kim making faces behind Tristan occurs, sticking her tongue out and motioning her fingers to her throat in that "I want him dead" kind of way.
There's shade, and then there's just straight-up wrath. I feel as though this clip is showing the latter more than the former.
After Kim stands next to Tristan and just eyes the hell out of him, Khloé asks, "Are you going to say hi to each other or no?"
Eesh. If this wasn't uncomfortable before, it certainly is now.
The pair hug it out pretty unenthusiastically, before Kim starts the cut-throat motion once more when Tristan turns his back to her.
Do you see that direct eye contact Kim is making to Tristan as she's motioning impending doom? I CAN'T, you guys.
"The vibe in the room is calm, I thought there would be way more tension," Kim says in her confessional. "As much as I want to go off, I just don't think it's the time. So I'm gonna keep it cute, I don't have to have a lot of interaction, I just have to be there for her."
Probably a good call, Kim.
We pretty much end the clip with Kylie calling to FaceTime with the family, and mama Kris having a one-woman dance party to perhaps ease the tension, which sort of only makes things weirder. What a fun home video True gets to watch of her delivery when she's older!
You can watch the whole thing here, but please understand just how many levels of shade there are within the clip's short two minutes. You may want to consider bringing a flashlight.
Not going to lie, though, I'm secretly applauding Kim's somewhat immature actions. Just goes to show you that you simply do not mess with a Kardashian.