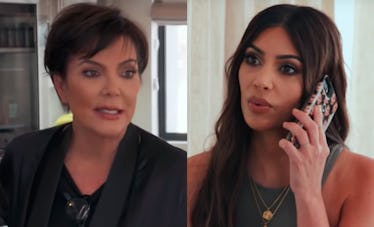 This Clip Of Kim K & Kris Jenner Finding Out Khloé Is In Labor On 'KUWTK' Is So, So Intense
YouTube
Brace yourselves, Keeping Up With The Kardashians fans, the episode about Khloé going into labor after finding out Tristan Thompson reportedly cheated is coming. In a new clip released from the episode airing on Sunday, Nov. 4, fans get to see the chaos that went down when the family learned Khloé was in labor. And the video of Kim Kardashian and Kris Jenner reacting to Khloé being in labor is the tensest I've seen Kris Jenner on the show in a long time.
At the beginning of the clip, Kris Jenner, Kim and Kourtney Kardashian, and grandma Mary Jo are all at Kourtney's house video chatting with what appears to be a group of women taking a class related to the Kardashians. Jenner is on the phone with Khloé's OB/GYN as she tells her that Khloé is in labor in Cleveland. Jenner is visibly freaking out that Khloé is all on her own in Cleveland. The next shot shows Kim, Kourtney, and MJ on their video call when Jenner walks into the room and asks them to hang up. "I gotta go," she says in the clip. "Wrap it up... I can't wait one sec."
Once they're off the phone, Jenner drops the news that Khloé is in labor and she kicks herself a bit for not leaving for Cleveland the night before like her gut told her to.
The whole video is intense.
As Jenner scrambles to leave the house so she can meet Khloé's doctor at the airport, Kim calls Khloé to see if she's OK and to ask if she wants her to fly out with their mother. Khloé then asks her sisters for advice about what she's physically feeling and tells them how far apart her contractions have been. Kim then decides to drop all of her plans to join Jenner on the flight to Cleveland.
"When there's something crazy that goes on in our family, we just always drop everything that we're doing and go be supportive to them," Kim says in a solo shot in the clip.
In a previous clip released on Halloween of the upcoming episode, Kim talks to Kris Jenner about how badly she wants to go to her 20-year high school reunion.
The issue, however, was that the reunion was the same weekend Khloé's doctor was set to go to Cleveland to check on Khloé, aka that was the weekend of her due date and they expected she would give birth then.
"You know I've been dying to go to my high school reunion... But I'm nervous because... that's the weekend the doctor is going out to see Khloé," Kim says to Jenner in the clip. She then asks Jenner if she can wait a little longer to fly out to Cleveland so she can both go to her reunion and be there for True's birth. Kris wasn't budging.
"I just want to get there," she said. "This is giving me anxiety just not being there. I just want to settle in and make sure she has everything she needs. You know there's a lot to do. Because, God forbid, she goes into labor." As the other clip from the episode showed, Khloé did go into labor two days before Kim's high school reunion, so she dropped it to go to Cleveland.
"I obviously wanted to go to my reunion and I wanted to make both work," Kim says in a solo shot, "but since my reunion is in two days, it's like, game over. It doesn't matter. I'm going to go to Cleveland and be there for her." This episode is going to cover all of the Tristan Thompson cheating drama and Khloé giving birth to True, so it's going to be dramatic, to say the least.