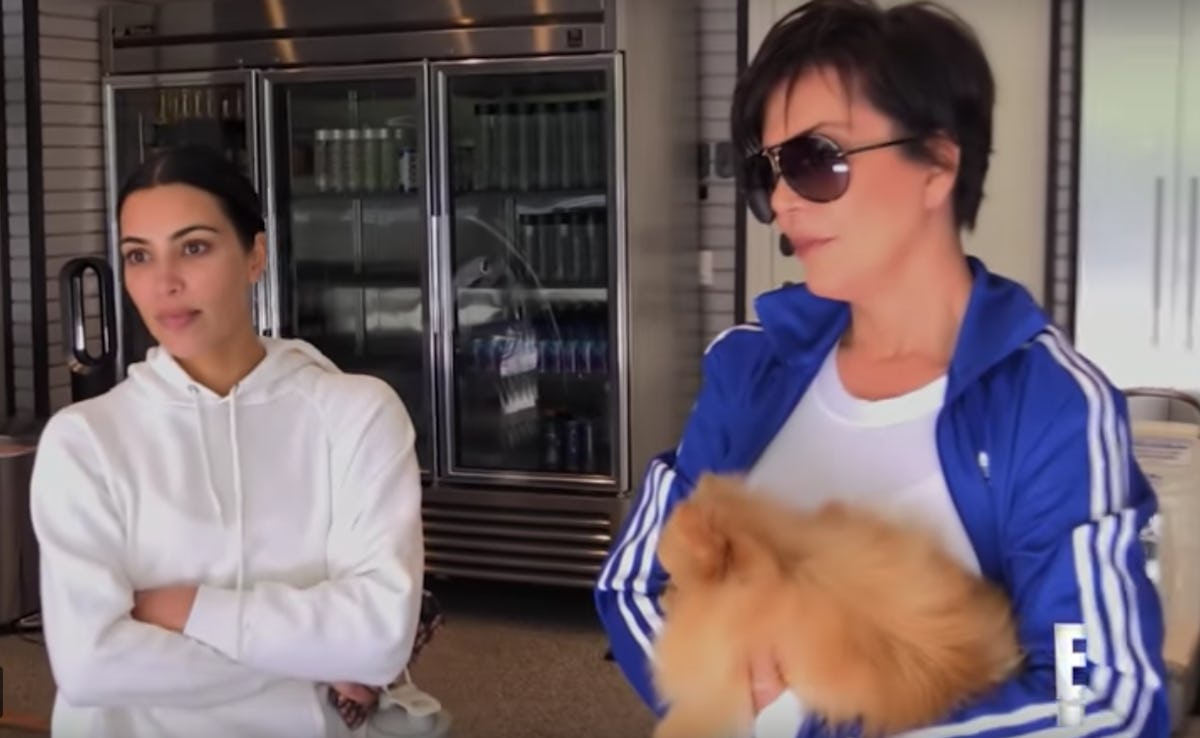 Kim K Got Brutally Honest About Not Trusting Tristan After Cheating On Khloé
YouTube
Another day, another piece of Kardashian drama. And this one is a reeeeeeeaal nail-biter, folks. That's because Kim Kardashian is not exactly keen on Tristan Thompson after he got caught in tape cheating on girlfriend Khloé Kardashian while she was pregnant, and she has no problem being open about her feelings. And this video of Kim Kardashian doubting Tristan Thompson's remorse is a lot to handle, proving that she's not letting him off the hook easily.
In a sneak peek from Sunday's episode of Keeping Up with the Kardashians, we get to watch Kim Kardashian raise some concerns over just how sincere Tristan Thompson's apology was after he was found seemingly kissing multiple women in surveillance footage just days before Khloé gave birth to her daughter. Elite Daily previously reached out to Kardashian and Thompson's teams for comment on the scandal but did not hear back by the time of publication.
"He was very remorseful and was feeling obviously sick over everything that happened," momager Kris Jenner said while chatting with Kim and cousin Cici Bussey.
But Kim doesn't exactly see it that way.
"But I told him, 'I think you're more remorseful because it's affecting your job,'" Kim says, adding, "I think he's more embarrassed that he looks stupid, 'cause [of] the public … booing him. And I think it's more of that than anything, and I told him that."
In a confessional video, Kim reveals that the family agreed to sit down and have a big talk with Tristan to try and sort everything out, and according to Kim, he did apologize to the family off-camera after Khloé returned from the hospital after giving birth to True.
"We all expressed exactly how we felt," Kim explained, adding, "I think the convo was going okay at the beginning and then it got heated. I don't know, it just kind of took a left turn... Overall, I think it was definitely necessary for us to let out how we all felt, and since he is the father of Khloé's baby, I definitely wanted to take the time to hear what he had to say."
Eesh. To be a fly on that wall.
In her confessional, Kim continued, talking about how Kris confronted Tristan and made it known that ultimately, they will always have Khloé's back. Kim said:
Then he got mad because my mom was like, 'You can make your decision. If you want to live this life of dating these Instagram whores and doing your thing, live that life.' Mom's like, 'If this doesn't work out with you guys, we're always going to rise up.'
That's Kris Jenner, for ya. She's always got her family's back.
Then, we see Kris, Kim, and Cici talking once more. "Khloé has been so invested, like, moved to Cleveland and nested in this house and made it a home, and it's beautiful because you could see that the whole place has Khloé written all over it," Kris recounted, which is somewhat heartbreaking, considering all that's transpired since Khloé's big move. But what Kris said next totally broke my heart. She said,
[Khloé] said something really interesting. She said, 'I didn't have a baby just to have a baby and move on.' She said 'I had a baby to create a beautiful family,' and that's what broke my heart. She really never saw it coming, either.
Not only was it sad to watch, but clearly, it was sad to listen to first-hand, and the video shows Kim looking visibly upset, too.
You can watch the whole heartbreaking video below:
Looks like we'll just have to stay tuned to see what happens next in this saga.