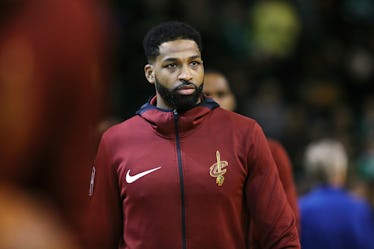 Tristan Thompson's Reaction To The Cheating Episode Of 'KUWTK' Was Reportedly Dismissive
Maddie Meyer/Getty Images Sport/Getty Images
If you've yet to watch the recent Keeping Up with the Kardashians episode where we get to relive the moment when the Kardashian siblings find out about Tristan Thompson's cheating scandal, I highly suggest you stop what you're doing and give it your full attention. It's kind of hard to watch, given the context, but it's especially difficult to think about Khloé in the aftermath of the episode's airing, though we did see her reaction to the tense episode on social media. And now, we're reportedly hearing from the other side of the relationship, too. Honestly, Tristan Thompson's reaction to the cheating episode of KUWTK will probably make your blood boil.
According to Us Weekly, Thompson reportedly gave girlfriend Khloé Kardashian a "firm no" when she asked if he would like to watch the episode together. Elite Daily reached out to Thompson and Kardashian's teams for comment on the report, but did not hear back by the time of publication. And look, while it might not have been the most fun time they've spent together, it would have probably helped the couple face the issue head on, and help to move away from the drama that transpired from the reported cheating claims.
So really, WTF Tristan?
"Khloé had already watched the episode before it aired and asked Tristan if he wanted to view it with her. The response was a firm no," a source told Us Weekly. "He is focused on basketball, and the Cavaliers are struggling this season. This only creates further distractions, and there wasn't any need for it."
I'm sorry, but since when does focusing on your career become more important than communicating and working on your relationship with the person you love?
The source continued, saying, "Tristan is acutely aware of the impact dating a Kardashian has on his career," and that "it's something that he has expressed more concern about to his friends in recent weeks."
The impact of dating a Kardashian? On his career? This is just levels upon levels of rude.
And the kicker is that the recent spotlight on Thompson's cheating scandal has reportedly "only added to ongoing tensions."
While we didn't get to hear much from Thompson himself, we did at least get to see Khloé's reaction to the episode. On Sunday, Nov. 4, Khloé sent out a series of tweets talking about the difficulties of watching the episode where we see the Kardashian family react to Tristan Thompson cheating on Khloé back in April 2018, just days before Khloé gave birth to their daughter, True. Per reports from The Daily Mail and TMZ, surveillance footage was released that showed Thompson kissing another woman, as well as kissing two other women at a hookah lounge on a separate occasion. Elite Daily previously reached out to Kardashian and Thompson's teams for comment on the scandal, but did not hear back by the time of publication.
In Kardashian's tweets addressing the episode, she wrote,
Tonight's episode is an uncomfortable and super emotional one for me, but when we signed up for this show over a decade ago, we signed up for a reality show, which meant showing you guys inside our lives, the good, the bad and the ugly.
In a tweet posted shortly after, she wrote that going through those moments all over again was "incredibly difficult emotionally" but noted that "we all get to learn from our journeys":
She concluded, writing,
Amidst the tough times, I have been blessed with the ultimate gift, my sweet baby True who has changed my life in ways I never could have imagined.
Looks like we'll just have to wait and see how the rest of this situation pans out, friends.