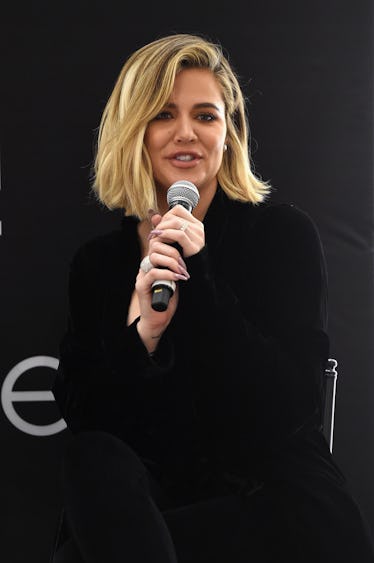 Khloé K's Cryptic Instagram Quote May Hint She's Not Ready To Give Up On Tristan Thompson
Jamie McCarthy/Getty Images Entertainment/Getty Images
What is up with Khloé Kardashian these days? The new mama has been going in deep on her Instagram stories in the last few weeks, sharing a whole bunch of cryptic but inspirational quotes about stuff like being strong and refusing to give up. And now she's at it again with two more mysterious "you go girl!" messages! So are Khloe Kardashian's Instagram quotes simply a reaction to what's going on in our country right now? Because amen, Khlo, I hear you! Or is there a much more personal reason behind the messages. Honestly, that would make total sense, given all the drama our girl has been dealing with lately. Elite Daily reached out to Kardashian's team about the meaning behind the quotes but did not hear back in time for publication.
Anyway, here's the deal: The Revenge Body star hit up her Instagram story on Oct. 9 to share not one, but two veiled messages. And I'm not gonna lie, both of them are pretty intense. I'm totally feeling the sentiments behind them, though, and I am SO here for Kardashian's reinvention as a legit guru of girl power. New nickname: KoKo Spice. It's pretty good, right?
Let's get to those quotes now, though, because I know that's what you guys want, what you really, really want. And if you didn't see that line coming a mile away then who even are you?
OK, so here's Kardashian's first post: "God bless the woman who just wants to be better, do better, feel better," it said. "Who refuses to give up despite the hell she experiences on earth."
Woah, Khlo!
Her second post was just as fierce, you guys, and it appeared to be a directive to be kind, even in the face of people who are not.
"Be good to people," it read. "Even the sh*tty ones. Let the *ssholes be *ssholes. You'll sleep better."
A-freaking-men! Someone needs to give this girl her own advice column, ASAP, am I right? Because KoKo has had a tough go of it lately — what with the whole Tristan Thompson cheating rumors scandal and all the resulting flack she's received for choosing to stand by her man. And this isn't the first time she's put a positive spin on everything via obscure messages on her Insta.
Check out this quote she shared on her story on Oct. 3:
"If you've been brutally broken but still have the courage to be gentle to other living beings, then you're a badass with a heart of an angel," it read.
I actually love this message so much. So is this Kardashian's way of addressing the fact that she's chosen to stay with Thompson? Maybe. I mean, she did follow it up with a stunning pink pic on her actual Instagram feed a few days later that she captioned, "All of that, and you're still standing. I am proud of you! You're doing a great job! Keep going 💕"
There's no denying that the image is beyond gorgeous, but I have so many questions. Is Kardashian talking to herself in the caption? To Christine Blasey Ford? To all the women of the #MeToo movement in general? We may never know. But whatever the reason behind all her recent missives, I think it's pretty clear that Kardashian is not only a resilient woman, but a beautiful one, both inside and out. And if she wants to stick with her man, then who are we to stop her?
Keep standing tall and speaking your truth, mama!