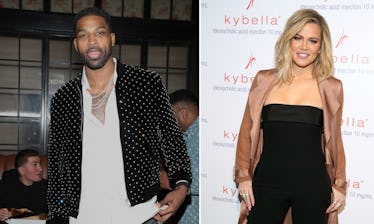 What Khloé K's Baby Name Announcement Reveals About Her & Tristan's Relationship
CASSIDY SPARROW/CINDY ORD/GETTY IMAGES ENTERTAINMENT/GETTY IMAGES
The wait is over! On Monday, April 16, Khloé Kardashian announced her baby's name on Instagram. The emotional caption revealed that her daughter's name is True Thompson. If you've even briefly glanced at the internet at all this past week, you know that baby True's arrival came amid a whirlwind of allegations that Tristan Thompson had cheated on Kardashian during her pregnancy with at least two women. The Keeping Up with the Kardashians star has reportedly forgiven him; she even let him into the delivery room while she gave birth.
Given all the alleged drama between Kardashian and Thompson right now, the language in her most recent Instagram caption is pretty darn fascinating. Kardashian wrote:
Our little girl, True Thompson, has completely stolen our hearts and we are overwhelmed with LOVE. Such a blessing to welcome this angel into the family! Mommy and Daddy loooooove you True!
According to relationship expert and divorce attorney Michelle Afont, Kardashian's choice of words is a "very, very strong statement" that she and Thompson are presenting a "united front" as partners and parents. The message is short — just 32 words — but packs a powerful punch. Can you spot what Afont is talking about? Below, she breaks it down.
Kardashian uses words that refer to her and Thompson as a team.
Look carefully: Kardashian uses words like "our" and "we," calls them a "family," and refers to her and Thompson as "Mommy and Daddy."
"My first thought is that Khloé is making a very, very strong statement that they are a united front," Afont says. "They are very much together in my opinion... I mean, she could've gone in such a different direction with that announcement: 'My little girl' instead of 'our little girl,' and 'Mommy loves you' instead of 'Mommy and Daddy love you.'"
True's last name is Thompson.
Prior to the announcement, some fans wondered which last name the baby would receive. Thompson might be the traditional route (you know, giving the baby the father's last name, because of the patriarchy and all). But while the Kardashian-Jenner family has never been traditional, opting to give the baby the last name Kardashian could send a signal that not all is well between True's parents.
"She has given the baby his name, which was a little surprising to me," Afont says. "But I love it. You know, I think they're going to survive this... She chose to make the statement, 'We are together and we want the world to know it.'"
But don't read too much into the meaning behind True's name.
After Kardashian announced True's name, a lot of fans started making the same nasty joke about the choice of moniker: mocking the fact that Thompson allegedly wasn't "true" to his girlfriend. Not cool, guys. The internet briefly turned into a chorus of elementary-school bullies who think it's just hilarious that Kelly's name rhymes with "smelly."
I had to ask — did Afont think Kardashian choose the name True as a way of shutting down cheating allegations? In other words, was she opting to own the situation and reclaim the word with happier associations? Afont thinks not.
"First of all, I think they had the name picked out long ago, so I don't think it was chosen overnight," she says. "I mean, [a baby] is something she's wanted for so long. My take on it is that she means 'true love' or 'true to her heart.'"
As usual, Kris Jenner stepped in to save the say: Alongside a photo filled with pink balloons, she explained that True is actually a family name. Kris's grandfather was named True Otis Houghton, and her father was named Robert True Houghton.
I'm so excited to welcome my precious little granddaughter True!!! FUN FACT... my Grandfather's name on my Dad's side was True Otis Houghton....my Dad's name was Robert True Houghton...so i am so excited Khloe named her daughter True!!! #lovebug#familytradition#family@true
(She also tagged @true, because of course a four-day-old celebrity baby already has their own first name as their Instagram handle. Of course.)
Based on Kardashian's Instagram, it looks like she and Thompson will ultimately stay together — if he's willing to put in the effort.
Kardashian's choice of words ("our," "we") makes it sound like she views her and Thompson as a durable team. He has yet to release a statement, so it's impossible to tell how he's feeling about his relationship and his family right now. But based on Kardashian's caption, Afont believes the couple can survive these allegations if they're willing to ask themselves tough questions and if they're both ready to fully commit to the relationship.
"Tristan needs to ask himself if he will commit to being a faithful father, a faithful husband, and faithful partner," Afont says. "Khloé needs to ask herself if she's going to be able to forgive what's happened in the past in order to start fresh. The key is that both of them will have to want the relationship to work. If only Khloé's rooting for this, there's no chance."
The next move is in Thompson's court.