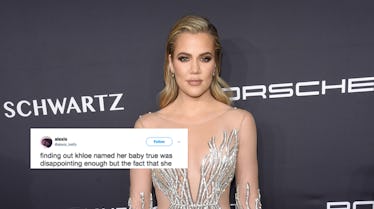 Fans Are Pissed Over Khloé Kardashian's Daughter's Name For This One Reason
Jamie McCarthy/Getty Images Entertainment/Getty Images
Wow you guys, it really happened. Khloé Kardashian and Tristan Thompson have finally told the world their daughter's name, and it is seriously GORGEOUS. The couple decided to name her True Thompson, and I think it is absolute perfection. But a lot of fans are shaking their heads, and not because of her first name (though some weren't totally in love with it). And these tweets about True Thompson and her last name are pretty harsh, fam.
We got word that the 33-year-old KUWTK star gave birth to her first child, a baby girl, on Thursday, April 12, and everyone seemed beyond happy for her. In the midst of Tristan Thompson's reported cheating scandal, Kardashian having her baby seemed like a really joyful thing to celebrate, but of course, some fans were hoping that her daughter would take Kardashian's last name and not Thompson's in spite of everything that went down.
Wellllll.
Kardashian announced her daughter's name in an Instagram post on April 16 with a photo of pink balloons EVERYWHERE. It was captioned,
Our little girl, True Thompson, has completely stolen our hearts and we are overwhelmed with LOVE. Such a blessing to welcome this angel into the family! Mommy and Daddy loooooove you True!
True Thompson? True Thompson?!
For those unaware, reports surfaced on April 10 from The Daily Mail that claimed Thompson had cheated on Kardashian while in New York City with the Cleveland Cavaliers. Elite Daily reached out to Kardashian and Thompson's teams for comment on the report but did not hear back by the time of publication.
Fans quickly took to Twitter to describe their complete disdain for the fact that Kardashian's daughter's last name is Thompson:
Some of the tweets were harsh. Like, really harsh:
And others decided to question the child's first name, finding it ironic that, in light of Thompson's reported affairs, the couple named their daughter True:
But some came to Kardashian's defense, agreeing that the name True is beyond adorable, even if her last name isn't Kardashian:
You know what? While I don't *love* the fact that Kardashian decided to give her daughter Thompson's last name, I can at least understand why.
And who are we to judge? It's Kardashian and Thompson's daughter, and no matter what goes on, they will always be True's parents.
We waited quite some time to even hear the little one's new name, since Kardashian wouldn't reveal the name she chose until after she gave birth. Back in January, before it was even known that she was expecting a girl, Kardashian went on The Ellen DeGeneres Show and told Ellen that if she was having a son, she'd name him Tristan Junior, but she was unsure what to name her baby if it was a girl.
"For a girl I don't even know where to begin. I think I'll go with a K or a T name though," she told Ellen, and guess what? She stuck to her word.
But a lot of fans are hoping that Kardashian will take True back to L.A. to be back with family and to leave Tristan Thompson behind. And, after rumors that Thompson reportedly cheated on Khloé with five different women, pretty sure I'm on board with that plan, too.
On April 12, an inside source told People that Khloé is planning her move back to Los Angeles, saying, "The goal is to get Khloé out of there as fast as they can without jeopardizing the safety of the baby after she's arrived ... Khloé just wants to be home."
Now that we know Kardashian has given her daughter Thompson's last name though, perhaps this means that a move is no longer in the works.
I think the only thing we should really be caring about is little baby True, and I'm positive that Kardashian is doing everything from this point forward in her daughter's best interest.