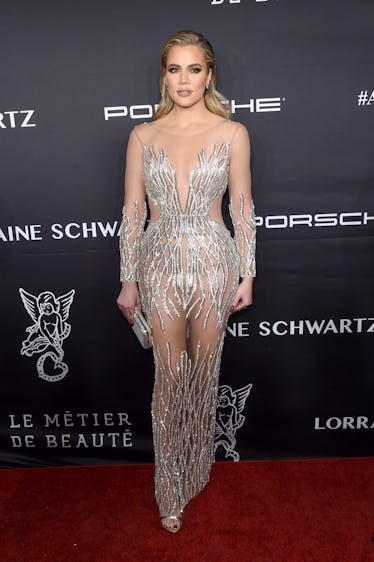 Khloé Kardashian Is Reportedly Already Planning To Move Out Of Cleveland ASAP
Jamie McCarthy/Getty Images Entertainment/Getty Images
As you are all probably well aware of by now, Khloé Kardashian gave birth to her baby girl the morning of Thursday, April 12 just outside of Cleveland, Ohio, which is amazing. What's even more amazing is now that she and her daughter are happy and healthy, she can make her exit and head back home after Tristan Thompson's reported cheating has come to light. According to TMZ, the Kardashians flew to be by Khloé's side for her birth (with Thompson there, too, BTW, so talk about awkward), but now that her daughter is finally here, a new report says that Khloé Kardashian is planning her move back to Los Angeles. Peace out, Ohio, it has not been real.
An inside source told PEOPLE,
The goal is to get Khloé out of there as fast as they can without jeopardizing the safety of the baby after she's arrived ... Khloé just wants to be home.
If our girl Khloé wants to head back home to California, then more power to her. She now has a child to consider, and I'm confident that she'll do whatever is in her and her daughter's best interest.
As for Thompson, the insider said that he still has practice (for the Cleveland Cavaliers), but he "will spend as much time at the hospital as possible," adding, "Everyone is focused on what's best for their baby girl. Khloé is being the bigger person and letting Tristan bond with their baby."
A big props to Kardashian for allowing Thompson to even be in the same room as her without wanting to shoot death rays out of her eyes.
For those of you just tuning in, Tristan Thompson was spotted getting cozy with an unnamed woman on Saturday, April 7, in New York City. There's footage of the encounter, and The Daily Mail claims that Thompson and the woman were kissing, though it's difficult to see what exactly they are doing underneath his hoodie. Elite Daily reached out to Kardashian and Thompson's teams regarding the report but did not hear back by the time of publication.
I know, I know. Rage. There is nothing but rage.
It's totally aggravating, especially because Kardashian decided to move to Cleveland to be with Thompson as they awaited their baby girl's arrival. On April 3, Kardashian shared a message to her app that gave fans a reason why exactly she decided to make the move, and that she was "happy" to be in Cleveland. She said,
Throughout my pregnancy, I traveled back and forth between L.A. and Cleveland quite a bit, but after a while, it was a little difficult. It was more tiring and my body got swollen, which never used to happen before pregnancy. I obviously love both cities, but I will say I'm happy to be in Cleveland right now.
She continued, saying,
...I'm with Tristan and I get my home time — cooking, being with my love, and just more of a routine. In L.A., I'm SWAMPED with work. But then again, I love being in L.A. because I get to see my sisters and my mom, and I have my trainer and the people that I've grown up with. So there are perks to both cities for me!
Before Thompson's reported cheating saga happened, this move was considered beyond sweet, and very selfless of Kardashian. But now, fans are urging Khloé to hop on the next available flight back to L.A., because L.A. NEEDS YOU, KHLOÉ, and Cleveland (more specifically, one person who lives there) does not deserve you.
So, you know what? It's not a bad idea going back home to L.A., Khloé. Not a bad idea at all.