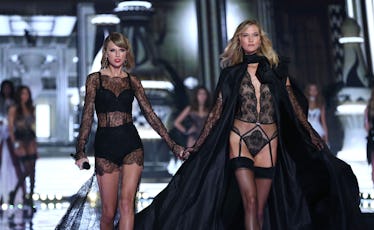 Karlie Kloss' Latest Tweet To Taylor Swift Will Make Kaylor Fans Go Nuts
Tim P. Whitby/Getty Images Entertainment/Getty Images
Rejoice, Kaylor fans! It looks like our favorite friendship is as strong as ever, according to Karlie Kloss. Taylor Swift and Karlie Kloss mysteriously went from absolute BFF goals to totally nonexistent within the past year. However, Karlie Kloss' tweet about Taylor Swift's birthday will make you a believer in their friendship again.
Kloss posted a photo of her and the "... Ready For It?" singer via Twitter on Dec. 13 to celebrate Swifty's birthday. The two blondes are posed very close together in what looks like a car on a dreamy road with the ocean behind them. Maybe the Pacific Coast Highway in California? Unfortunately, background details aren't given in this particular post. Kloss and Swift both look fresh-faced and makeup free in the casual photo — Kloss is even barefoot. Also, have Kloss and Swift always looked this much alike?
The caption of the photo simply says, "Happy happy birthday @taylorswift13!" Kloss also added a shooting star emoji at the end of her well wishes.
Fans have been flooding Kloss' picture with comments praising the fact that Kaylor is alive. This little token from Kloss gave fans everywhere hope that some of the remains of Swift's squad have stayed intact. Most importantly, that the absolute bomb girl duo, Kloss and Swift, are still doing well.
After doing a little investigation, it looks like this photo is from a Vogue photoshoot that Swift and Kloss did together. Note Swift's striped sweater and Kloss' patterned dress that much up to the photo Kloss posted on Dec. 13.
Since the release of Swift's Reputation album, fans have been theorizing a few tracks are about Kloss — specifically "Dress" and "Getaway Car." Actually, fans assumed "Getaway Car" was a reference to that exact Vogue shoot above. The chorus to "Getaway Car" reads,
You were drivin' the getaway car
We were flyin', but we never get far
Don't pretend it's such a mystery
Think about the place where you first met me
Ridin' in a getaway car
There were sirens in the beat of your heart
I shoulda known I'd be the first to leave
Think about the place where you first met me
In a getaway car, oh-oh-oh
No, they never get far, oh-oh-ahh
No, nothing good starts in a getaway car
Fans are definitely celebrating this Kaylor reference.
The second verse continues,
It was the great escape, the prison break
The light of freedom on my face
But you weren't thinkin'
And I was just drinkin'
Well, he was runnin' after us, I was screamin', "go, go, go!"
But with three of us, honey, it's a sideshow
And a circus ain't a love story
And now we're both sorry (we're both sorry)
There's no reason that Karlie Kloss couldn't be a part of Swift's "great escape."
In addition to "Getaway Car," "Dress" is definitely one of the sexiest tracks on Reputation. It paints a very strong picture of a relationship that Swift kept under wraps. The song begins,
Our secret moments
In your crowded room
They've got no idea
About me and you
There is an indentation
In the shape of you
Made your mark on me
A golden tattoo
All of this silence and patience, pining and anticipation
My hands are shaking from holding back from you (ah, ah, ah)
All of this silence and patience, pining and desperately waiting
My hands are shaking from all this (ha, ha, ha, ha)
First off, a "golden tattoo" could signify someone with blonde hair. It doesn't get much blonder than six-foot-tall Karlie Kloss. Second, Swift talks about being in a crowded room together. Seldom has Swift attended a party with a rumored boyfriend, but she and BFF Karlie Kloss have been to many events together.
Plus, the birthday love has only given more concrete evidence to the Kaylor shippers out there.
Whether you are one of the shippers or not, you have to admit it's great to see Swift getting a little social media love from friends. I hope she had a great birthday and we'll see if any more squad members pop up on Swift's feed.
Check out the entire Gen Why series and other videos on Facebook and the Bustle app across Apple TV, Roku, and Amazon Fire TV.