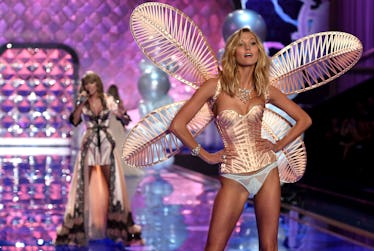 Is "Getaway Car" About Karlie Kloss? Taylor Swift's Fans Think The Two Are Dating
Dimitrios Kambouris/Getty Images Entertainment/Getty Images
The theory machine is in full swing after the release of Taylor Swift's new album, Reputation, but how close to reality are some of these ideas? For instance, is "Getaway Car" about Karlie Kloss? Some fans have made excellent points about why Swift might be singing about Kloss in "Getaway Car," so check out what people are saying.
First up, let's check out the "Getaway Car" lyrics for clues:
It was the best of times, the worst of crimes
I struck a match and blew your mind
But I didn't mean it
And you didn't see it
The ties were black, the lies were white

In shades of gray in candlelight
I wanted to leave him
I needed a reason
X marks the spot where we fell apart
He poisoned the well, I was lyin' to myself
I knew it from the first Old Fashioned, we were cursed
We never had a shot, gunshot in the dark
You were drivin' the getaway car
We were flyin', but we never get far
Don't pretend it's such a mystery
Think about the place where you first met me
Ridin' in a getaway car
There were sirens in the beat of your heart
I shoulda known I'd be the first to leave
Think about the place where you first met me
In a getaway car, oh-oh-oh
No, they never get far, oh-oh-ahh
No, nothing good starts in a getaway car
In the second verse, Swift sings:
It was the great escape, the prison break
The light of freedom on my face
But you weren't thinkin'
And I was just drinkin'
Well, he was runnin' after us, I was screamin', "go, go, go!"
But with three of us, honey, it's a sideshow
And a circus ain't a love story
And now we're both sorry (we're both sorry)
Straight away, fans were getting a Kloss vibe, with one tweeting: "GETAWAY CAR REMINDS ME OF KARLIE AND TAYLOR FROM THE VOGUE PHOTOSHOOT IN THE CAR."
There are a lot of Kaylor fans out there, it turns out, and many of them are finding lyrics all about Kloss. One fan tweeted: "so are we all in agreement that dress and gorgeous and getaway car and basically all of reputation is about karlie kloss and that kaylor is real."
Another noted: "Dress, Dancing with our hands tied and Getaway Car are kaylor anthems."
Still another fan tweeted: "MY KAYLOR FEELS ARE REAL BECAUSE OF GETAWAY CAR."
How have people connected the dots on this one being about Swift and Kloss? One fan spelled it all out, explaining: "'Getaway Car' is about Kaylor hiding from the media you heard it here first."
This theory is getting a fair amount of mention, too: "I'm Taylor writing an entire album about how much she's in love with Karlie."
Still other fans believe that Swift's sexiest track, "Dress," is all about Kloss: "I sooo get it why Dress became everyone's favorite!! I never thought Taylor will ever write a song about sex!! Haha I love it!! Please pay attention to the details mentioned. It screams Karlie Kloss."
Another fan added: "CAN YOU BELIEVE DRESS IS ABOUT MISS KARLIE KLOSS AND TAYLOR WROTE IT FOR HER ONLY AND IT REALLY EXISTS LIKE ITS A REAL SONG THAT TAYLOR WROTE FOR HER GF."
Whether or not "Getaway Car" is about Kloss, you can't keep the Kaylor fans from reading between the lines in hope that it was inspired by Kloss.
Check out the entire Gen Why series and other videos on Facebook and the Bustle app across Apple TV, Roku, and Amazon Fire TV.