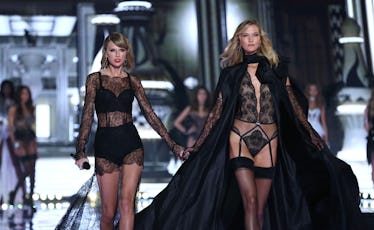 These Tweets About Kaylor After 'Reputation' Prove Fans Still Ship Taylor Swift & Karlie Kloss
Tim P. Whitby/Getty Images Entertainment/Getty Images
Praise everything that is good in this world: Taylor Swift dropped her newest album, Reputation, and it is filled with pure lyric GOLD. While some of the songs offer up a hearty dose of shade, others are filled with lyrics about love and romance, but one song in particular is making fans go absolutely wild with speculation. These tweets about Kaylor after 'Reputation' will actually make you pause for a second, because, um, they raise some startlingly good points.
Swift's new song "Dress" has a lot of sexual undertones, and many are convinced that it's written about her bestie, model/exquisite human Karlie Kloss. Swift-spiracy theorists predicted that the singer and Kloss actually have been dating for years, dubbing their relationship "Kaylor." I know, eye roll, right? Impossible!
But can't the two just be besties, and nothing more? I mean, sure, Swift's adorable birthday post to Kloss is totally something a friend would do for another friend. And Kloss' Instagram post bear-hugging Swift is totally something friends... might do, right? Some could argue that their relationship seems a bit more romantic – especially those who ship Kaylor.
So, could it be?
Well, Swift does have a way of constantly subtly referencing other celebs in her songs, and the songs on Reputation are clearly no different. It seems that Swift calls out Kanye West and Kim Kardashian in a not-so understated way in "Look What You Made Me Do" and again in "This Is Why We Can't Have Nice Things," and definitely alludes to her relationship with Joe Alwyn in "...Ready for It?" So Swifties always know to search her lyrics for a deeper meaning and a closer look into her personal life, and maybe, just maybe, there's a hint about Kaylor hidden in there.
So, whether you choose to believe that Swift is dating Joe Alwyn, or that all of Swift's relationships have merely been beards to hide her romance with Kloss, that's totally up to you. But let's just take a look at some tweets from fans that prefer the latter than the former.
Let's dig in, shall we?
She has a point, TBH. Joe Alwyn barely sounds like an actual human. But I digress...
You guys, this song has literally been out in this world for, like, 5 whole seconds, and there's already this much speculation about "Dress" being about Kloss. But maybe there's some truth to it. Looking a bit further into the lyrics, the references Swift is making could actually be referencing to Kloss:
Say my name and everything just stops
I don't want you like a best friend
Only bought this dress so you could take it off
Take it off
Carve your name into my bedpost
Cause I don't want you like a best friend
Only bought this dress so you could take it off
I mean...
Okay, Kaylor fans. You've got our attention.
Hot damn, Kaylor fans are getting mighty thirsty. How about a few more, for good measure:
Kaylor fans, you are on FIRE!
Could it be that people are just forming conclusions that they desperately want to believe, even though there's no real truth to it? Absolutely. But I have to hand it to the Kaylor shippers because they are super sleuths who have been trying to piece this puzzle for a while now. If Taylor Swift and Karlie Kloss ever DO become an item, I will be bowing down to the Kaylor fans for knowing it all along.
And, if I'm being honest, I would totally hop on the Kaylor train myself, because let's face it, they'd be cute as hell together.
Team Kaylor, over and out.