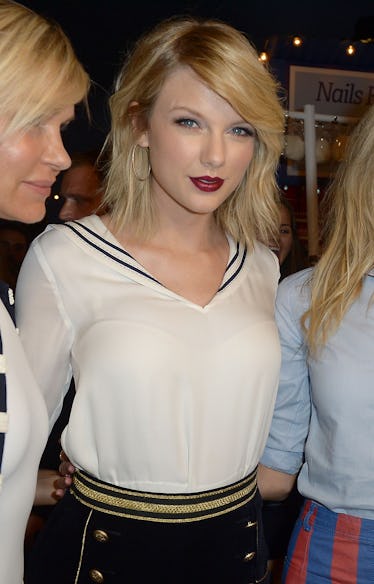 Taylor Swift Is Dropping "King Of My Heart" & It Sounds So, So Romantic
Gustavo Caballero/Getty Images Entertainment/Getty Images
Taylor Swift finally shared the Reputation tracklist and it's making fans lose their minds, as they try and figure out who and what each song is about based on the title alone. It's not easy, but if any fandom is up for the task, it's this one. Is "King Of My Heart" about Joe Alwyn?
Following a leak of the tracklist, Swift made everything official, posting the album artwork with all the goodies:
"…Ready For It?"
"End Game" (feat. Ed Sheeran and Future)
"I Did Something Bad"
"Don't Blame Me"
"Delicate"
"Look What You Made Me Do"
"So It Goes…"
"Gorgeous"
"Getaway Car"
"King Of My Heart"
"Dancing With Our Hands Tied"
"Dress"
"This Is Why We Can't Have Nice Things"
"Call It What You Want"
"New Year's Day"
That's definitely a lot to chew on, but "King Of My Heart" has nabbed fan interest because, well... heart. And king. Is it Swift's heart? Is Alwyn the king of it? Oh, I need those lyrics like, right now.
We already know that "Gorgeous" is all about her boyfriend and the "Call It What You Want" lyrics are romantic as hell. So maybe "King Of My Heart" spills even more beans on her relationship with Alywn? One can hope.
Swift and Alwyn have done the impossible and kept their relationship out of the spotlight, with an insider telling People in August: "Her decision to keep her relationship with Joe quiet is making her happy. They have been getting to know each other slowly without any pressure."
The source added: They seem to be on the same page. Joe is getting to know Taylor's parents and everyone likes him. He is very supportive of her work."
With her many references to Alwyn in her "...Ready For It?" music video, fans feel like Swift is putting it all out there. Check out the graffiti in the video that includes their birth years (89 and 91) spray painted on the wall, as well as other references throughout. Swift may be subtle with her shoutouts to her love, but she's not hiding her feelings entirely.
Here's one theory about the meaning of "King Of My Heart" that sounds pretty solid: "I guess it's another song about how her and Joe got together since the Taylor representing this song is a Taylor from 'You Belong With Me' music video where she tries to get the boyfriend whom she secretly loved for a long time and finally she got him." Maybe?
Others are making some early predictions ahead of hearing the song: "remember when taylor said she was a hopeless romantic well since that i believe king of my heart will be the death of me." Probably.
Another fan asked: "taylor swift's new album will have a song called 'king of my heart', what have you done joe alwyn? Lol."
Then there is all the fan theory about the order of her tracklist that might point to her telling a story. How does Alwyn fit in? Let's analyze that for a moment, especially since some Secret Session attendees have noted that you should definitely listen to Reputation's songs in order.
This comes from an attendee at one of Swift's Secret Sessions: "I'm not telling people how to listen to the album, but I'm just HIGHLY recommending that you guys listen in order because it is a story." I honestly can't' wait to see how the whole story unfolds.
Reputation drops Nov. 10 and something tells me "King Of My Heart" is going to be one song that really stands out.
Check out the entire Gen Why series and other videos on Facebook and the Bustle app across Apple TV, Roku, and Amazon Fire TV.