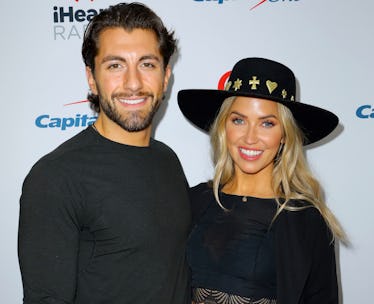 18 Sweet Things Kaitlyn Bristowe & Jason Tartick Have Said About Each Other
JC Olivera/Getty Images Entertainment/Getty Images
Bachelor Nation has high hopes for many couples who meet through the reality show — but let's be real, not all of those relationships are meant to be. Yet there's one fan fave couple that's living proof it's totally possible to find true love through the franchise — even if it's off-camera, long after the final rose has been handed out. Go ahead and read Kaitlyn Bristowe and Jason Tartick's quotes about each other and you'll see what I mean.
Honestly, what's not to love about this relationship? Not only are they constantly celebrating each other's professional achievements, but they also can't seem to stop praising each other's admirable qualities. Best of all, they never pretend to be perfect — in fact, part of their charm is their unfiltered attitude. Like, when Bristowe admitted she occasionally finds Tartick annoying, or when Tartick claimed that some days, the way he chews a potato chip is enough to irritate his boo (how relatable is that?).
Apparently, the secret to their success is that they always make an effort to ensure the other one feels appreciated.
"I think our number one important thing is putting each other first, and communicating, and making sure each other knows that we're a priority," Bristowe previously told Elite Daily.
Remember the time Tartick said that the "one and only" "beautiful" Bristowe was "undeniably" his favorite Bachelorette in history? Yeah, there's a lot more where that came from. Here are a handful of examples of this dynamic duo doing what they do best: letting the world know just how deep their love runs.