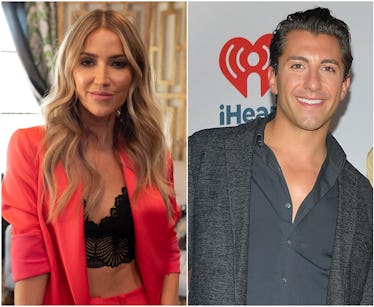 Kaitlyn Bristowe Reveals Why Jason Tartick Is Her "Hype Man" & I'm Here For It – EXCLUSIVE
ABC & Sam Wasson/Getty Images Entertainment/Getty Images
Part of the appeal of Bachelor Nation is following contestants on social media long after their time on TV has wrapped. Bachelor fans have watched from the comfort of their Instagram accounts as the franchise's alums fall in love, get married, and have babies. Although her Bachelorette relationship didn't last, the Season 11 leading lady is now dating another former franchise star, and Kaitlyn Bristowe's explanation of why Jason Tartick is her "hype man" delves into particularly empowering territory.
First appearing as a Canadian dance instructor on Chris Soules' 2015 Bachelor season, Kaitlyn went on to headline Season 11 of The Bachelorette. She became engaged to personal trainer Shawn Booth, who she split up with in 2018, and began a public relationship with Seattle banker Jason Tartick in January 2019. On Becca Kufrin's Bachelorette season, Jason was a dark horse, eventually winning over fans with a unique persona Bachelor Nation doesn't often see in the mansion. As the third-place finisher, he was at the center of fervent Bachelor campaigns in 2018, but he and Kaitlyn have the casting of Season 23 star Colton Underwood to thank for their relationship.
Since announcing they were together, the pair haven't held back from sharing their everyday lives as a couple. Their Instagram pages are packed with adoring photos and videos of each other, and the support there is real. "Oh my gosh, I call him my hype man," Kaitlyn tells Elite Daily. "We come from obviously the Bachelor world and he's new to it and I feel like we just support each other in different ways."
"He has his bank job and he's so, so smart and he's gotten success with his bank and he's financially just a genius," the former Bachelorette says, "where I'm like more of a creative mind and we just make such a good team that supports each other. He thinks it's incredible what women can do when they come off the show and how we all support each other and just make success come from that in really good, positive ways."
Jason's empowering presence in Kaitlyn's life comes ahead of her involvement with entrepreneur Heidi Ganahl's SheFactor mission, which uses its online platform to encourage women in living an empowered and fulfilled life. After downloading the free SheFactor app, users answer questions telling the service what kind of woman they are and can then set goals within different spheres of their life. The app helps hold users accountable for dreams set within sections such as Finance, Fashion, Future, and more, and also offers networking opportunities through its SheFactor programs.
Having written the foreword to Ganahl's new SheFactor book, Kaitlyn supports the company's mission to inspire women. "I think one of the biggest problems for younger women is [that] they usually feel alone and you see on social media that everybody looks like they're doing exactly what they should be doing and looking beautiful while doing it," she says. "It's nice to have a community of women and just be there for support, and I always say this, like, 'Oh, Heidi, you're genius, I wish I had this when I was younger!'"
Just as supporting Bachelor contestants is easily done from your own couch, supporting women in pursuit of their best selves can start as a result of your Monday night viewing habit, too. Kaitlyn has reiterated her support for Season 15 lead Hannah Brown after her misconstrued opinions of the former Miss Alabama hit the internet, but her encouragement might be just enough for Hannah.
"Everybody's experience is so unique and so different that you almost can't prepare somebody for this," Kaitlyn says about advice for the new Bachelorette. "So for Hannah, I just feel that she's going into it really vulnerable, which she should, and I just truly believe she's gonna surrender to the process. It looks like she's just staying true to who she is and being herself, and that's the only way you're gonna find somebody."
Hannah brought out her own girl squad for her season's first night, and just as the Bachelorette reunion special emphasized the importance of female support, Kaitlyn is on board for turning to fellow ladies in times of uncertainty. "That's when you're gonna find your path," Kaitlyn says. "[It's] is if you have a community of women lifting you up and you have support and you're actually going after something you love, believing in who you are."
The Canadian's belief in success stemming from passion proves true with her current businesses. In addition to hosting the Off the Vine podcast, she runs her own scrunchie collection and is planning the launch of a wine line. "I have my wine label that's coming out this month called Spades and Sparrows, and it's so exciting," she says. "I don't know why it took me this long to come up with a wine label because I'm very into my wine and it's a part of my podcast. Podcasting is a big part of my week. It's three times a week and I absolutely love doing it."