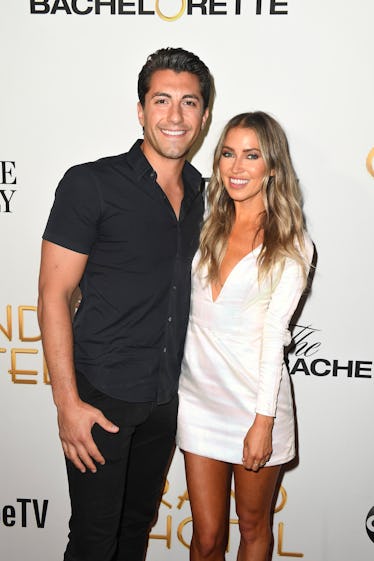 Jason Tartick's Quotes About Kaitlyn Bristowe Will Melt Your Heart
ABC/Matt Pettit
In case you needed another reason to obsess over this couple, allow me to present Jason Tartick's quotes about Kaitlyn Bristowe. Tartick has said so many adorable things about his lady in the six months they've been officially A Thing, that it's hard to keep track. But if one thing's for sure, it's that these two seem to be head-over-heels in love with each other. IDK you guys, if my gut is any indication (and it totally is), these two seem pretty end-game to me.
Now, in case you weren't aware, Bristowe and Tartick have been together since January 2019, after Bristowe ended her three-year engagement to Shawn Booth in November 2018. Bristowe and Booth, who met and got engaged on Bristowe's season of The Bachelorette in 2015, released the following statement following their split:
Even though we are parting as a couple, we're very much committed to remaining friends. We have both evolved as people, which is taking us in different directions, but with the hope that we will continue to support each other in new ways.
After she ended things with Booth, Bristowe and Tartick started seeing each other. Slowly but surely, their relationship grew, and now they're living together and adopted a seriously adorable rescue dog named Ramen. True love people!!
If how committed these two have gotten in such a short amount of time isn't enough to convince you they're meant to be, Tartick's quotes about Bristowe definitely will be. Grab a tissue.