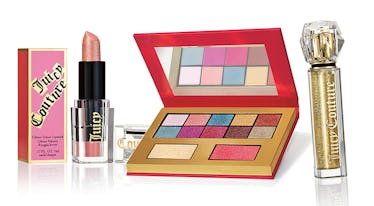 Juicy Couture's New Makeup Collection Is Almost Here, So Grab Your Velour Hoodie & Get Excited
Courtesy of Juicy Couture Color Collection
When I first heard about Juicy Couture's new makeup collection, I admit to being beyond thrilled. After countless days of my youth spent zipping up my velour tracksuits and spritzing on Juicy perfumes, (still the best around, FWIW) who knew that all this time, the lewk I was going for was missing the perfect lipstick? The queens at Juicy themselves did, of course, which is why they've announced the launch of Juicy Couture Color Collection, a cosmetics range inspired by one of their best-selling fragrances.
If you haven't smelled the brand's newest fragrance, Oui by Juicy Couture ($85, sephora.com) then, in the words of DJ Khaled, congratulations, you played yourself. But seriously, you're really missing out: the fruity floral scent is just one of many in Juicy's fragrance catalogue that's become instantly iconic, in part due to perfume bottles so cute that even those who hate the scents are tempted to buy for vanity display purposes. The brand has managed to stay relevant within the fragrance world over time thanks to their mastery of the combination of cute packaging and sweet, wearable scents, and so it only makes sense that they take the next step and utilize this skillset in the world of color cosmetics, too. The new Juicy Couture Color Collection is inspired by the Oui fragrance, and spoiler alert: the products are just as gorg.
For many women I know, their first Juicy Couture perfume or purse doubled as their first luxury item. Fortunately, the new Juicy Couture Color Collection has a much lower price point, without skimping on any of the luxe vibes of their OG products. Everything in the collection is under $20, save for a huge palette that's still under $40.
Let's start with the palette, because I seriously can't stop staring at it:
Beyond, right? The Shady Color Palette ($38, available for pre-order on macys.com) comes equipped with ten eyeshadows, one blush, and one highlighter, and I dare you to pick your favorite shade, because they're all too good to choose. All of the shadow shades are metallics, and many are inspired by the Oui fragrance bottle. The highlighter, "Oui Glow," and the blush, "Oui Too Pink," are both slurry powders, so imagine a cream-adjacent formula and you've got the right idea.
BTW, Can we take a moment for this pigmentation? It's downright "juicy":
Next up are the lippies. The Glitter Velour Lipsticks ($18, available for pre-order on macys.com) are basically everything that my teenage dreams were made of, with colorful cores and hand-painted glitter wrapping blends (fancy!) around them that combine to produce pigmented, slightly shimmery shades when applied.
Believe me when I say, I'll be buying every shade. Juicy gets me yet again with that glam packaging and the perfect amount of glitter:
"Girl Stuff" is a red with gold glitter, "Not Your Babe" is a fuchsia with gold glitter, "UV Darling" is an ultra-violet with gold glitter, "Ripped & Zipped" is a deep nude with rose gold glitter, and "Happily Ever After" is a light nude with rose gold glitter. The formula is described as moisturizing and lightweight, but the clear packaging might be my favorite detail of all.
I will not rest until I own the lipstick called "Not Your Babe" — especially after seeing the swatches:
Oh, you thought those were the only lippies? Think again.
Yes, ma'am, there's more. The Lip Lusters ($18, coming soon to macys.com) have officially managed to make all other gloss packaging seem subpar, as they're adorned with crystal toppers similar to the cap of the Oui fragrance. These babies are super shiny, sheer tints that look great alone for a casual, velour tracksuit kind of day, or layered over lipstick for a more glam, hi-shine moment.
The shade range includes "Trouble Maker," a true candy apple red, "Boy Magnet," a signature Juicy pink, and "Like Famous," a daring, sexy purple.
Jumping back to eyes, there are two gorg products in addition to the palette. A moment of silence, please, for the deafening, blinding beauty of the "Glitter Crush" Lip & Eye Topper ($18, coming soon to macys.com):
Now this is what I'm talking about, people! This little bottle is serving me a high-end, sparkling fantasy! I need 500 more shades! Until then, though, I can certainly make due with the multidimensional gold pearls in "Glitter Crush," which you can apply on top of lip products as well as to the eyelids, in case those ten metallic shades in the palette weren't enough glitter for you.
Excuse me while I recreate this photo of Rihanna from her Allure cover decked out in silver glitter, except my version will be all gold, thanks to the Eye & Lip Topper:
Last but certainly not least, the collection rounds out with the Oui Slay Eyeliner ($18, coming soon to macys.com), which has a super-sharp tip and also the best name in eyeliner history:
The liner boasts a felt tip and a longwearing formula that's water-and-smudge-resistant, which is ideal considering I'll most definitely be shedding happy tears from my excitement over applying these products.
It's safe to say this entire collection has left me deceased:
At the moment, the palette and the lipsticks are available for pre-order on the Macy's website, but for the rest of the goodies, you'll have to wait until their official launch date. The complete collection drops on October 1 in Macy's stores, so I'll meet you there — wear a velour Juicy tracksuit and Ugg boots, or don't show up.