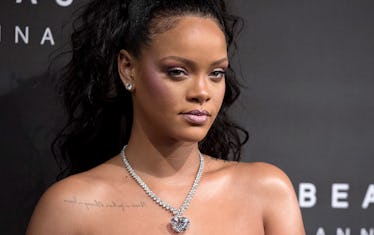 Rihanna, Gigi Hadid, & Khloé K Are Wearing Juicy Tracksuits & We're Here For It
Chris J Ratcliffe/Getty Images Entertainment/Getty Images
If you love something, you should literally never let it go because it will come back in style. Case in point: Velour tracksuits. I reluctantly got rid of my pink Juicy Couture sweatsuit thinking the days of Paris Hilton and Nicole Richie looking so cute in head-to-toe velour on The Simple Life were over. It was a sad day, but I felt like it was time to move on. BOY, DO I HAVE EGG ON MY FACE. Celebrities everywhere are wearing velour tracksuits and I (and most of Twitter) am here for it. Celebrities wearing Juicy Couture tracksuits are basically the best thing to happen in 2017. Hopefully, this means 2018 will start on a positive note.
Of course, not all velour or velvet tracksuits are Juicy Couture, but that's the OG brand in my mind. Although many celebrities throughout the 2000s have worn amazing tracksuits, my favorite moment has to be from my kween Kim Kardashian.
Back when she was Paris Hilton's brunette BFF (and closet designer? organizer?), Kim posed in a pale pink Juicy sweatsuit with matching white and pink Adidas sneakers. She laid sprawled across the hood of a white Range Rover with her iconic dark hair that was perfectly teased. Everything about the photo is truly amazing.
Thanks for being you, Kim. Honestly, fans have been begging for the velour revival, and we finally got what we have been asking for.
Of course, today's celebs (including Kim and the rest of the Kardashian clan) are wearing very up-to-date tracksuits. Below are a few celebrities who have brought back this look harder than ever. They've updated this look from the past into an amazing statement in the present.
Rihanna
If Rihanna says something is back... it's back and we should all start wearing it immediately. What the Fenty mogul has done to these classic velour outfits is add her own badass flair. With the baby blue tracksuit, RiRi added a pair of heeled white boots — chic AF. She paired her oversized light pink suit with a cute patterned bag. HOW DOES SHE DO THIS?!
The Kardashians
The Kardashian-Jenner sisters are top-tier fashionistas, so it's no surprise they are digging the velour right now. Khloé Kardashian loves this look so much she incorporated velour tracksuits into her collection for Good American.
I think Kourtney Kardashian is the one I see most frequently in a velour tracksuit. She loves a cropped jacket, jewel-tone colors, and a loose fit. As a busy mom, I'm sure she's thankful for this comfy and easy trend.
As for Kylie Jenner, all hail the kween. Jenner not only wore velour, but she had the OG pair with "Juicy" written across the butt. Remember when we all wore things with writing on the butt? Good memories.
As long as the Kardashians are rocking this trend, velour tracksuits are here to stay. Keep up the good work, ladies.
Gigi Hadid
OK, so technically she's only wearing a velour sweater, but what a fabulous subtle nod to the trend. Let's be real, I'm sure Hadid was wishing she could be in head-to-toe velour. Hadid is one of the most stylish models literally on the face of the planet — I will take fashion advice from her any day.
If all this velour is making your head spin, you're not alone. The remixed fad is back in full force and being worn by a plethora of celebrities across the board. The internet is definitely loving the return of such an iconic trend.
If you hate the velour tracksuit trend, I honestly don't understand why. They're socially acceptable pajamas you can wear anywhere, and people look damn cute wearing them.
I hope you all enjoy this old trend, and keep cozy this winter in velour. Happy tracksuit season!
Check out the entire Gen Why series and other videos on Facebook and the Bustle app across Apple TV, Roku, and Amazon Fire TV.