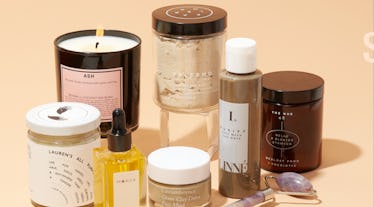 Chillhouse's Shop Chill Online Store Has Products To Make Your Vanity As Cute As Their Insta Feed
When I first moved to the city, I already had Chillhouse at the top of Instagram-famous spots I wanted to visit. I'd been following their Instagram for months despite my inability to make it to the nail salon/coffeeshop/self-care spa destination in person, and upon becoming a full-fledged NYC local, I knew it would quickly earn it's place as a favorite location for me IRL as it had on social media. Now that the brand has launched their own curated shop, the Chillhouse SHOP CHILL Online Store, I finally have a way to channel their aesthetic when I can't make it to the shop itself — and those of you who have my previous problem of not living nearby can now get in on all the Chillhouse goodness for yourself, too.
Started by founder Cyndi Ramirez in 2017, the original Chillhouse was meant to be the perfect combination of cool-girl aesthetic and self-care treatments. It offered everything from manicures and massages to lattes with names like "Give Me Life" and "Make Me Glow." Basically, if an Instagram lifestyle influencer's feed were to come alive in spa-café form, it would look a lot like Chillhouse.
That's probably why their own Instagram aesthetic is so good, as you can see from my screenshots of their feed:
And, also, why the physical space itself is so damn chic:
Since launching their brick-and-mortar location, the brand has blown up and expanded, even creating The Chill Times, a "digital oasis" featuring beauty and self-care content for the cool, modern girl. Their latest endeaver is the SHOP CHILL Online Store, a curated collection of must-have, must-post beauty and lifestyle products that will look as great on your vanity as they will on your Instagram feed. Since not everyone can get to NYC to experience Chillhouse in the flesh, stocking up on these aesthetically pleasing products is without a doubt the next best thing. In fact, I can go to the store, and I'll still be snagging some beauty goodies from the shop, because pretty much everything listed is giving me I-Want-It-Now vibes.
First up, you can bet your bottom dollar I'll be snagging something from the brand French Girl, partly because I can't get enough of their minimalist packaging, and partly because I want to be a French girl, natch. The French Girl Lumiere Bronzing Body Oil ($40, chillhouse.com) is the number one product on my list, because I need something to keep my skin looking sunkissed as we reach fall and winter and I enter my palest months of the year.
As for skincare, I've got my eye on The Buff Beauty Booster in Geranium ($12, chillhouse.com). Geranium oil can be used on the face, body, hair and in the bath or your diffuser — if you don't know, I live and breathe for my vitruvi Essential Oil Stone Diffuser ($119, vitruvi.com), so I'm all for any chance to stock up on more oils. Geranium helps soothe redness and even out your skin's complexion, and Chillhouse also carries these Beauty Boosters in Grapefruit and Frankincense, so you've got ~options~.
Next up is a blessing to my hair, my vanity, and multiple future Instagram posts: the Poketo Pink Multi Wave Comb ($18, chillhouse.com). Do I need this comb? No. Will it effectively make it's way through my super-thick, often unruly hair? I'm not sure — but we're about to find out, because I'm definitely buying it. It's far prettier than I could ever hope to be, and the extra-wide teeth supposedly allow it to work its way through long, textured hair with ease. Consider me officially unhappy until I have this comb proudly displayed on my vanity. And yes, it comes in blue, too.
Next on our list is an homage to the fact that the OG Chillhouse space is in part a nail salon: the côte No. 52 Nail Polish ($18, chillhouse.com). I really like côte's formulas because they are vegan, cruelty-free, and don't include major toxins tons of other big nailpolish brands do — plus, this hot orange shade is very fall-appropro, yet still bright enough to rock during the weird waves of humidity we're experiencing even now in late September.
Next up is the Olio E Osso Bliush Shimmer Cheek & Lip Balm ($28, chillhouse.com), which is serving me serious popsicle multistick realness. Described as an iridescent pale pink, the tinted cream formula is said to be super hydrating, and I'm all about swiping on simple dual-purpose products like this on lazy, no-makeup makeup days.
Oh, you thought your jade roller was Instagram-level trendy and cool? Honey, we've upgraded: gua shas are the new must-have in face tools, and the Skin Gym Rose Quartz Gua Sha ($32, chillhouse.com) is an absolute must. They might be newly taking social media by storm, but gua shas have a long history of use for facial massage, and are said to lift, tighten, and de-puff skin over time with regular use. Pair it with your favorite oil — like the one by The Buff I mentioned earlier — and give yourself a few minutes of "me time."
One of the slightly more random products I'll be adding to my cart is the Good Thing Soap ($29, chillhouse.com). I have virtually no justification other than that this is the most exciting and unique bar of soap I've ever seen? It's so simple yet so gorgeous? It's definitely the kind of thing I will put in my bathroom for guests to fawn over, but will most definitely not let them touch or use. Sorry in advance to my future houseguests; I will of course let you photograph it for your Instagram Story, tho!
Rounding out my list of aesthetically-pleasing products is a candle, which, although technically not a beauty item, is a must for my vanity — and my sanity, rhyme absolutely intended. The Boy Smells Kush Candle ($29, chillhouse.com) is without a doubt the only candle worthy of being described as "badass," and it really, truly is. Along with cannabis (obviously), the scent contains notes of suede, white musk, tulip, and amber. I fully plan to burn this daily until it's completely used up, and will then upcycle the jar by stylistically placing only my prettiest makeup brushes inside it. Please don't copy me.
Now that I've given you a peek at what I'll be buying, I'll let you go with a warning: do not browse SHOP CHILL under the impression that you have a strong enough willpower to avoid making any purchases, because you will most definitely see something you want, and you will simply not be able to resist. If, however, like me, you are totally DTS (Down To Shop) then I suggest hitting up SHOP CHILL as soon as humanly possible, and displaying all your purchases in a photo of your vanity on Instagram, for which I will of course throw you a Like.