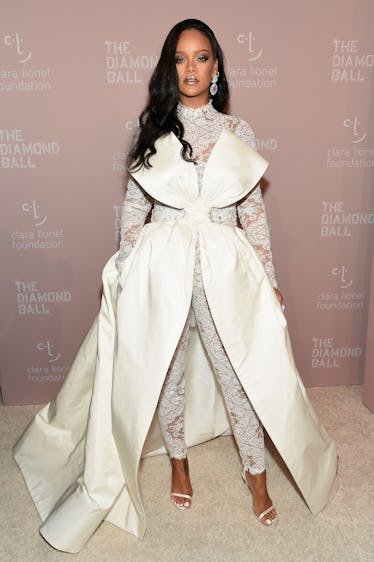 Rihanna Legit Brought The Glitter Tongue Trend Back From The Dead With Her 'Allure' Cover
Dimitrios Kambouris/Getty Images Entertainment/Getty Images
Forget a highlighted cheek bone, Rihanna's look on her Allure cover is so lit that even her tongue is shining bright like a diamond. That's right, the cover shoot of the publication's "Best of Beauty" issue features the singer in sparkling makeup looks from her eyelids to her cheeks and lips and even to her tongue, all courtesy of Fenty Beauty products and the brand's Global Makeup Artist, Priscilla Ono. While all of the images in the publication's October 2018 issue have me seeing dollar signs, the image that showcases the singer with a mouth full of glitter brings back one of last year's biggest Instagram makeup trends: the glitter tongue.
When the glitter-filled tongues began surfacing on newsfeeds in August 2017, many people became skeptical of this particular beauty trend — and for a good reason. I mean, let's be real: If you've ever been in contact with glitter, you know that that stuff doesn't just go away without serious scrubbing. That being said, I'd imagine loading loose glitter specks on your tongue sounds a little hazardous, as they'd stick to the back of your mouth and throat.
While I myself am no doctor, Dr. Adam Simon, chief medical officer at online GP service Push Doctor, warned The Daily Mail when the weird trend went viral last year that "most glitter products aren't edible and therefore should not be put on the tongue, as it is likely even a small amount may be swallowed."
Dr. Simon went on to explain that the trend could make you sick, as your body can't process it correctly. "Glitter is made of plastic – a substance the body cannot break down, so [it] could cause a stomach ache, constipation, or even worse," he said. "There may also be bacteria on the glitter that could be harmful to the gut if digested, therefore making a person very ill."
However, if you just can't help yourself because Rihanna's sparkling tongue has inspired you to try making the glitter tongue trend resurface, Dr. Simon suggested using an edible glitter. How can you tell if a product is edible, you ask? According to Dr. Simon, you can the ingredients of the shimmery substance to make sure everything is food-based, so you know they'll be digestible by the body. If the ingredients only include things like sugar or gum arabic, or other food-based substances, you should be OK.
While Fenty Beauty's Diamond Bomb, ($38, fentybeauty.com) the finely-milled glitter highlighter that was used on Rihanna's eyes, lips, and tongue is 100 percent cruelty free, it's not 100 percent food-based as Dr. Simon suggests. So as grateful as we are for the major slayage that the singer blessed us with in Allure's October issue, let's just be even more thankful that it seems no Bad Gals were harmed in the making of the content.
In addition to the twinkling tongue shot, the cover story goes on to include five open letters to Rihanna from celebrities and fans alike, expressing their gratitude for her influence in music, fashion, and now, beauty, thanks to her creation of the ever-inclusive, expansive, and successful Fenty Beauty that launched just one year ago.
Bless Rihanna for simultaneously changing all of our lives, bringing dying trends back from the dead, and looking cool AF while doing it.