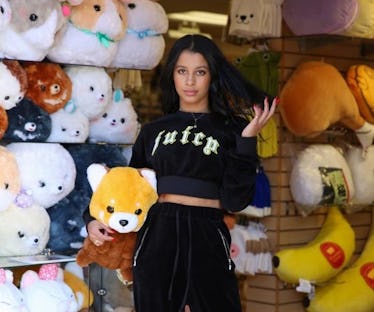 Juicy Couture Just Updated Their Iconic Tracksuits & Prepare To Obsess Hard
VFiles
When I was a teenager in the mid-2000s, there was one outfit that reigned supreme. The Juicy Couture tracksuit — and anything by Juicy Couture, really — was ubiquitous within the halls of Ponderosa High School (and probably every high school in America) and if you wore it, it proved that you knew what was in, what was cool. Despite a handful of years of being decidedly uncool, Juicy Couture has made an ironic return as of late thanks to the rise of the athleisure trend and a sense of nostalgia for all things aughts that's been sweeping through the fashion industry. In 2016, the brand collaborated with Vetements on their spring 2017 collection that showed at Paris Fashion Week, and last year, they released a capsule collection with Urban Outfitters. Now, they've teamed up with VFiles on an especially unique Juicy Couture x VFiles collection and I've found myself once again saving up for a terry cloth co-ord. What is life?
To flashback to 2006 real quick, I was not one of those girls that owned a closet full of Juicy and five pairs of real Uggs. Rather, my lambskin boots were of the Costco brand variety and I saved up my allowance and the little money I made for months to buy my first Juicy Couture bag on Ebay. (It was lime green and hot pink and I think I wore it out once before realizing its ugliness.) Eventually, I was able to convince my parents to buy me an egregiously overpriced pair of sweatpants, but only because they didn't have the word "Juicy" emblazoned in crystals across the butt like most of the brand's styles. I never did own an iconic fuzzy sweatsuit as a teen, so I feel like it's my time to make up for it.
Called "VFILES LA JUICY," an ode to Juicy's signature Viva La Juicy Perfume ($98; ulta.com, the collaboration features 17 pieces ranging from bomber jackets and skirts to t-shirts and, yes, tracksuits. Everything within the collection is pink, white, black, red, or a combination of a few colors, which is keeping in line with the brand's DNA. What's different, however, is the streetwear vibe each piece has; the tracksuit is composed of a cropped crew neck top and drawstring sweats, while the (insanely cool) velour tees feature a boxy silhouette and a sports jersey-inspired aesthetic. The pieces are somehow total throwbacks yet undeniably modern. As Paris Hilton, an OG Juicy fan, would say, that's hot.
Shot by photographer Ro.Lexx, the campaign was creatively directed by designer and overall babe Sami Miro, who also stars in the photos. Miro has her own line of clothing called Sami Miro Vintage (everything is cut from sustainably sourced vintage fabrics) that's been worn by everyone from Bella Hadid and Kaia Gerber to Madison Beer and the Jenner sisters, so you know anything she puts her name on is going to be fire. The campaign shows her in various locations around New York City (my favorite snap shows Miro posing with a wall of stuffed animals that are as fuzzy as the tracksuit she's wearing) and provides awesome styling inspiration.
The collection is currently available online at VFiles and in select worldwide Urban Outfitters locations, and I'd recommend shopping it soon in case it sells out. Although it's not super cheap — pieces start at $118 — it'll be worth it to have a brand that was all the rage during your formative years back in your closet as a wearable memento of sorts. And this time, the track pants read "VFiles" across the butt, and not in gemstones.
Because days of shiny hineys should always remain in the past.