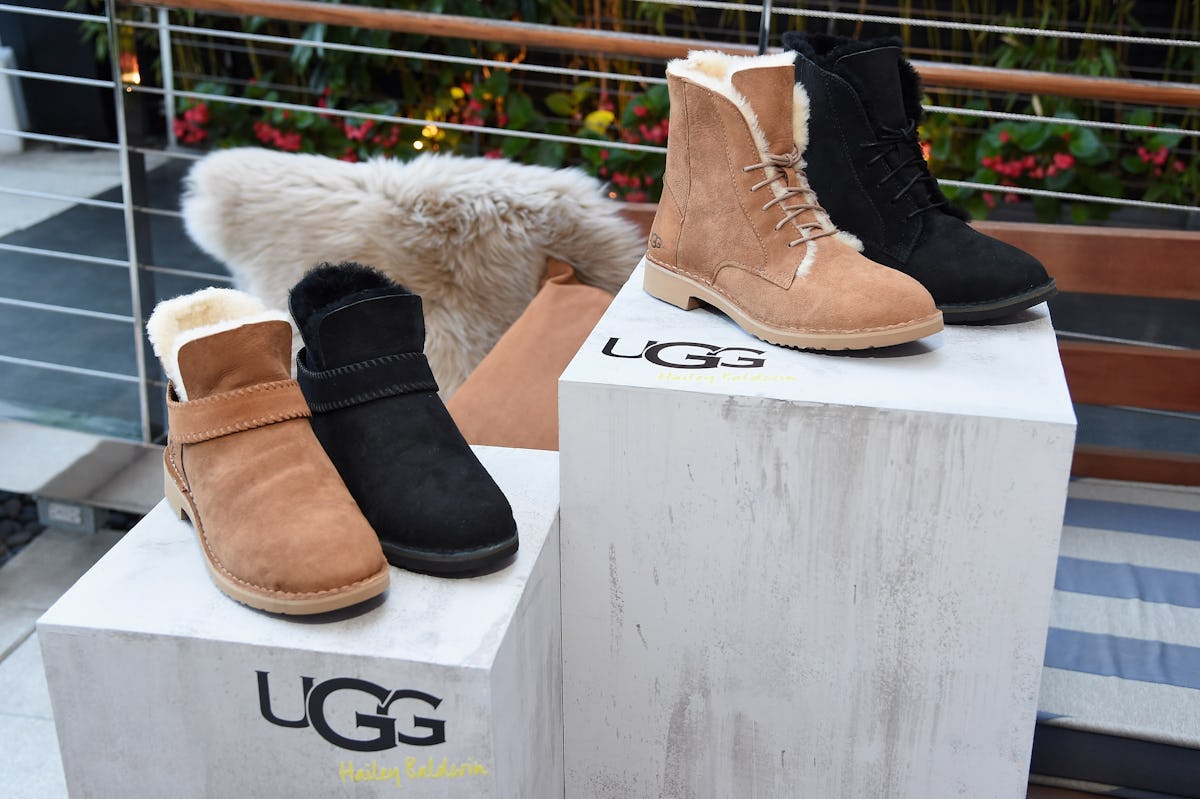 Thigh-High Ugg Boots Just Debuted, So The End Of The World Must Be Near
Jamie McCarthy/Getty Images Entertainment/Getty Images
When it comes to footwear, there's one style that the world has been divided over since it peaked when I was in high school. And now, it's been reimagined into a new version that is somehow even more questionable than the original. French brand Y/Project just debuted thigh-high Uggs at Paris Fashion Week, and the internet has some THOUGHTS about the boots.
In 2005, when I was a freshman in high school in Parker, Colorado, velour Juicy Couture bags and Uggs were the coolest items you could own. (Chicest town in the nation.) I saved up my money to buy a hot pink and lime green tote, and my mom bought me knock off Uggs from Costco. Within a year I had resold the heinous (or as Regina George would say, "fugly") bag on Ebay, but you know what? I still own my Costco boots to this day, and I love them more than words. In college, they were my go-to hangover shoes. Despite the fact that Uggs were most certainly considered one of the ugliest footwear styles in New York City (fUggs?), I'd unabashedly wear them to get a bacon, egg, and cheese pretty much every Saturday and Sunday; I don't think my local bodega owner ever saw me without them on.
Flash forward to 2018 and Uggs are actually cool again! And not just in the ironic way of being so ugly they're cool. They are legitimately cute, and I am living for their revival. Recently, Alexa Chung art directed an Ugg campaign, so you know they've gotten the stamp of approval from the most fashionable girls around, too. Featuring dreamgirls Anna Gray, Cleo Wade, Coco Baudelle, and Brianna Lance, the campaign proved what I've known all along: that Uggs look good with literally any outfit, and that heels are way overrated. Sign me up for 10 pairs. But only the short boot style, please.
While I thought my love for Uggs knew no bounds, evidently it does, those bounds being iterations of the boot that go any higher than my calf. Yes, someone dared to take what are largely considered the "ugliest" shoes on earth and bring them to a whole new level of WTF by making them thigh high. Y/Project debuted Uggs that reach your inner thighs and look like crinkled brown bags at Paris Fashion Week, and they are so weird that even I can't get behind them. While Y/Project is known for pushing the boundaries when it comes to avant-garde design, I think Uggs are one sartorial item that should never be touched. They're polarizing enough as-is.
If I was going camping in the most frigid of temperatures and didn't plan on walking more than five feet then yes, the new Uggs would be ideal. (In that case, a full-on Ugg body suit would be welcome. ) But in any other situation? Absolutely not! They're not only impractical, but they look ridiculous. The internet shares in my distaste for the new style:
According to Vogue, Y/Project's creative director Glenn Martins invented a wonderful simile for the experience of sporting Uggs.
"Putting on Uggs is like putting your foot in a warm pot of butter, and I thought why not elevate that and immerse your full legs! So we decided to design an Ugg boot that climbs up to the crotch and covers the whole leg."
Well, when you put it that way, the new Uggs do sound nice. But one look at them and I'm like, "Nope!" Thankfully, the collection also featured Uggs in calf-grazing and slide-on styles, so there's still hope left for the footwear's redemption. Uggs 4 lyfe.