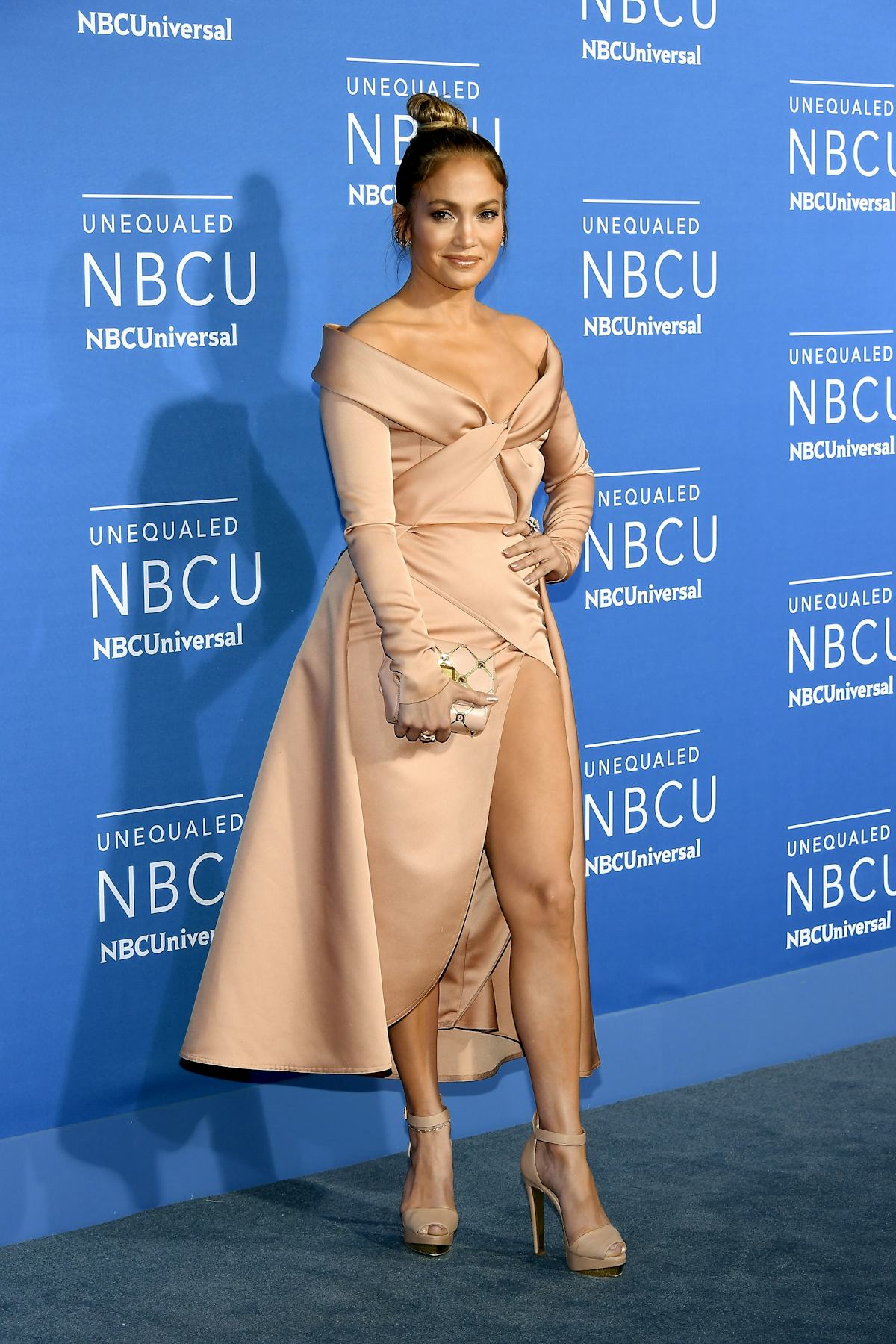 J.Lo Swapping Heels For Uggs Is All Of Us, So Don't Let Anyone Shame Your Boots
Dia Dipasupil/Getty Images Entertainment/Getty Images
In college, I wore my Ugg boots every weekend when I was hungover. Without fail, you could catch me drudging to my local bagel shop with them on my feet on Saturday morning. So when I saw Jennifer Lopez trading heels for Uggs on the streets of New York City, I decided it was time for me to dust my own pair off and once again indulge in the sweet, sweet pleasure that is the world's comfiest, coziest shoe.
Earlier this week, @JLoOfficialClub posted a tweet with photos of J.Lo walking on the set of her upcoming romantic comedy film, Second Act. In the first, she's wearing a colorful dress, fur-trimmed parka, and nude stilettos, looking like the fierce superstar she is. It's what I'd imagine her to look like at all times because she is actually perfect. But as the other pictures in the post prove, JLo really is just like us: a real person who can't stand wearing heels for an entire day.
Anyone who has had to suffer more than a few hours in three-plus inch heels will agree that wearing them for long periods of time is absolute torture. Unless they are a robot or one of those freakishly polished female CEO's who seem to be impervious to any type of pain. (This might be because they've had to learn how to deal with sexism and gender-based double standards within the workplace, but I digress.)
Here's J.Lo looking fierce as always.
And here is the moment when she becomes the hero 2017 didn't know (actually probably did know) it needed.
J.Lo can be seen slipping into a pair of much more practical Uggs with the help of a (very lucky) assistant, while in another she's pictured taking a stroll in the fuzzy flats. No, they do not necessarily complement the dress she has on, but who cares when she's just wearing them between scenes and probably wants to let her baby toes regain blood flow?
To be honest, I'm personally of the opinion that Ugg boots can look decent, even cute, if styled properly. My college friends gave me so much crap for wearing them on the weekends in college that I never dared to venture beyond the bagel store in them. I should probably mention that my Ugg boots weren't actually Uggs, but an iteration of the style that my mom bought for me at Costco (their samples, am I right?!), so they actually off-brand Uggs. Even better.
Have you seen the newer Ugg campaigns, though? Their boots be looking GOOD! Alexa Chung was recently hired to art direct an Ugg campaign featuring the coolest girls alive Anna Gray, Cleo Wade, Coco Baudelle, and Brianna Lance, and it is amazing and chic. If those girls are wearing Uggs, if Alexa Chung is saying they're cool, and if J.Lo is a fan of them, then I am pulling mine out of retirement and wearing them proudly. Edit: I'm buying some real Uggs and wearing them proudly.
Here, some cute to boot Ugg styles, if you're of my (and J.Lo's) persuasion.
Fuzzy Linings
I mean, have you ever seen a more welcoming shoe? It looks like fuzzy cloud that wants to give your foot a giant hug. I love that you can roll down the tops of this pair and make them feel a bit more rustic. These with a boho maxi dress and giant knit sweater would be the cold weather outfit of my dreams.
All Black Everything
Black boots are my thing. I own at least six pairs in various styles, soon to be seven. These guys could pair with literally anything from jeans and a leather jacket to a cute casual minidress.
Tall Order
These are slightly less versatile but man, do they look comfy. (This is the style my Costco boots were modeled after.) Again, a maxi dress or skirt would be good pieces to pair them with, or pajamas. But take it from me, they go best with a hot bagel.