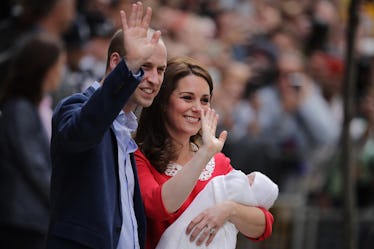 This Is Why You Won't See Prince Louis Today, Even Though He's Near The Royal Wedding
Dan Kitwood/Getty Images Entertainment/Getty Images
It's been a packed year for fans of the royal family: Kate Middleton gave birth to her third child, Prince Louis, in April; Prince Harry and Meghan Markle are tying the knot today; Princess Eugenie and her fiancé Jack Brooksbank are engaged to be married in October. Obviously, Kate, Eugenie, and Brooksbank are at St. George's Chapel at Windsor Castle today. But is Prince Louis at the royal wedding? I only wish.
Kensington Palace confirmed earlier this month that Louis would not be in attendance. It's likely that the newborn is being taken care of by a nanny near the chapel so that his parents can visit him, the Telegraph reports, but don't expect the tiniest member of the royal family to make an appearance at the ceremony or the reception. Parties just aren't his thing yet, OK?
Louis, who was born on Apr. 23 at the Lindo Wing of St. Mary's Hospital in London, is only 26 days old. "Louis is too young to attend the wedding, unfortunately," says pediatrician Dr. Lisa Lewis, author of Feed the Baby Hummus. "Although I am sure the happy couple would love to have him there, he could be exposed to viruses or bacteria that can be harmful to his fragile immune system. Whether there's 20 guests or 600 guests, it is recommended that he have minimal contact with people outside of the family in the first two months of life. Sorry, Louis, maybe you can be a ring bearer at the next wedding."
The problem is that newborns have vulnerable immune systems, says Dr. Ashanti Woods, Attending Pediatrician at Mercy Medical Center in Baltimore. "This simply means they are at risk of getting infections easier than say an older child or person who has been fully immunized."
According to Woods, it's safe to bring a newborn outside in "a non-crowded environment" (read: not a royal wedding) as early as two weeks after their birth, as long as they're dressed appropriately. At four to eight weeks, Woods says it's fine for the baby to be in more crowded situations. However, they should still avoid contact with anyone who's sick, "as they are more likely to become systemically ill if they catch a simple virus like a cold," notes Dr. Irene Tien, a pediatric emergency medicine physician in Boston.
Babies typically receive their first set of vaccinations at around two months old, at which point, it's safer for them to be in crowds that may contain sick people.
That said, not every doctor recommends Louis skip the wedding. "A healthy baby has a good immune system, particularly if he is breastfed and all of mom's passive immunity is transferred in the breast milk," says Dr. Dyan Hes, Medical Director of Gramercy Pediatrics in New York. "It's important that no one sick kisses the baby or comes too close." Dr. Hes isn't just saying that — she adds, "I took my 35-week preemie son directly from the hospital to a diner on day of life number three! He was fine."
Louis' next public appearance may be at Trooping the Colour in June (a ceremony performed by the regiments of the British and Commonwealth armies that coincides with the queen's birthday celebration) or at his christening, the Telegraph reports. By June, Louis may be old enough to safely be among large crowds.
I'm a sucker for a big family affair — the kind of wedding that serves as the ultimate family reunion, where all sorts of long-lost cousins and far-away siblings and random great-uncles with names you don't totally remember all come out of the woodwork. And while the new Duke and Duchess of Sussex (Harry and Meghan's official new titles!) do have a pretty packed guest list — 600 people will reportedly attend the ceremony — it's understandable that not every member of their family is able to be in attendance.
The week before the wedding, Meghan's dad Thomas Markle waffled back and forth on whether he would attend (and walk his daughter down the aisle). Markle is scheduled to undergo heart surgery, TMZ reports, following his heart attack last week. Ultimately, he was unable to attend.
This spring, there was uncertainty over whether Harry's grandfather, Prince Philip, would be able to attend. Royal biographer Katie Nicholl told ET in November that Harry chose to have a short engagement because "his 96-year-old grandfather, the Duke of Edinburgh, is retired now and Prince Harry really wants him to be at his wedding." Philip had hip surgery in April. While recovering, he did not attend many public appearances, though he did attend the Royal Windsor Horse Show on May 11.
And despite Louis not making it to the nuptials, his siblings were certainly in attendance: Prince George is a page boy and Princess Charlotte is a bridesmaid. (The royal family traditionally has young children serve in these roles — unlike here in the United States, it would be a significant departure from tradition to have an adult bridesmaid.) Plus, Prince William is serving as his brother's best man, which is a perfect mirror image of Harry filling the role for William in 2011.
Even if Louis is too young to attend this wedding, he's sure to be around for family events and public appearances in the future. Stepping into the spotlight is kind of his thing — he was literally born for it.