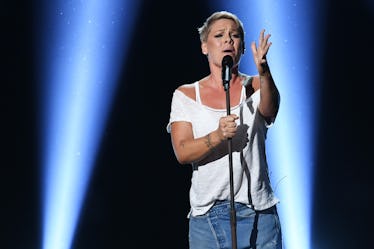 Fans Have One Question About Pink's Upcoming Super Bowl Performance
Kevin Winter/Getty Images Entertainment/Getty Images
Can we take a minute and honor Pink's musical and personal journey? The Beautiful Trauma singer went from slinging canned beer in music videos to performing the National Anthem at the Super Bowl, and became a true acrobat aerial artist in-between. (Because that's a normal evolution.) This year, she is opening up the Super Bowl LII and fans have just one question: Is Pink lip-syncing the Super Bowl National Anthem? I mean, I hope not. Probably not. Here's what we know.
Singing the National Anthem at any sporting event, let alone the Super Bowl, is meant to be live. The whole thing is that the performer stands at a single microphone and riffs the lyrics "bombs bursting in air." If Pink were to try to lip-sync it, there's a super good chance we'd know. The National Anthem is also much different from the halftime show, which traditionally involves way more movement, choreography, backup dancers, sometimes pyrotechnics, and lots and lots of running around. Not that Pink hasn't done that before, because she has. Oh, yes she has. We just don't expect it for this particular performance.
Pink is most known for her theatrical choreography and stunning aerial acrobatics. However, it's also been said that she never lip-syncs. Like, ever. She's said it. Fans have said it. So, I believe it. Back when she first spun from the ceiling at the 2010 Grammys singing her song "Glitter In The Air," there was a hot debate over if it was possible for her to do all of that stunt work and sing IRL. She took to Twitter to squash the rumors right away.
Pink tweeted out,
I hear there's a debate over whether or not I sang live on grammies, I have never lip synched in my entire life. I'm 100% against it.
Then again, in 2013, she commented on how much easier her job would be if she did lip-sync. After a series of tour shows had to be rescheduled, she tweeted,
Both shows rescheduled and very quickly. Touring would be terribly easy if I lip synced. See you soon xo
In 2017, Pink delivered a jaw-dropping performance hanging off the side of the JW Marriott in downtown Los Angeles during the American Music Awards. She performed the entire show hanging over the street below, and according to folks that were there, she didn't miss a single beat. She sounded amazing on TV, and the folks who watched Pink slide by their literal hotel windows confirmed she was singing the whole time.
One Twitter user wrote,
How some people are OK lip-syncing at the same event where P!nk is literally scaling buildings without missing a note is beyond me. #AMAs
Fellow musician Martina McBride tweeted her disbelief at Pink's capabilities, too. She wrote,
@Pink I don't even know what to say. Seriously beautiful and amazing performance. And she did that while delivering a perfect vocal. Damn.
More recently, Pink performed at the 2018 Grammys and gave a chilling scaled-down performance of her song "Wild Hearts Can't Be Broken." She stood center stage in a white t-shirt and sang her little (hilarious, I mean HUGE) heart out. It was awesome.
All of this to say, it would make zero sense for Pink to lip-sync at the Super Bowl after such a long history of killing it live.
Kick off is scheduled for 6:30 p.m., which means we can anticipate Pink's performance sometime shortly before that. Tune in to NBC to see if she goes for it and to watch the Philadelphia Eagles take on the New England Patriots.
Go team, and go Pink!
Check out the entire Gen Why series and other videos on Facebook and the Bustle app across Apple TV, Roku, and Amazon Fire TV.