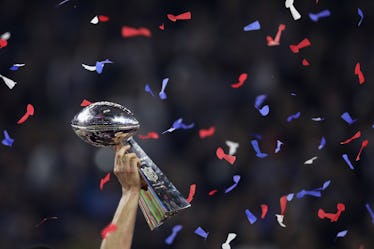 How To Watch The 2018 Super Bowl So You Don't Miss A Single Thing
Patrick Smith/Getty Images Sport/Getty Images
Listen, if there's one thing I'm really good at, it's watching football exactly one day out of the year. The Super Bowl is a great excuse to put on sweatpants, chow down on some nachos, and watch your favorite musicians rock out during halftime. You can also watch grown men toss around a ball and tackle one another, if that's your thing. The biggest day in football is quickly approaching, which means it's time to start making your plans. Here's how to watch the 2018 Super Bowl, so you and your friends can watch the New England Patriots take on the Philadelphia Eagles in all their glory.
It's pretty straightforward. The best option is to find a friend with cable and tune in to NBC. Super Bowl Sunday is Feb. 4, so there's still time to decide who has the best couch and microwave to host. If you aren't a TV type, you can also stream all of the action on NBCSports.com or use the NBC sports app if you're just, like, way too cool for school. Kick off is technically 6:30 p.m. EST, but the festivities start rocking way earlier in the day.
Beginning at noon, NBC will host Road to the Super Bowl, which will follow each team's journey to the big championship. Following that, the Super Bowl Pre-Game begins at 1 p.m. and will run until the game starts. Of course, there will be loads of pomp and circumstance leading up to kick-off, including our main girl Pinksinging the national anthem.
I know. I love it bad.
To make things more fun, Justin Timberlake is taking on the halftime show a whole 14 years after his infamous "wardrobe malfunction" performance with Janet Jackson in 2004. People are stoked for JT, but left feeling a little wonky about the disproportionate backlash Jackson received all of those years ago. While both Timberlake and Jackson had a hand in the removal of a piece of her clothing on live TV, Jackson definitely took a greater hit from the public.
In 2006, Timberlake addressed the controversy during an interview with MTV. He admitted he received "10 percent of the blame," and added, "There could have been ways that I could have gone about it, handled it better."
He continued,
I'm a part of a community that considers themselves artists. And if there's something that I could have done in her defense, that was more, that I could have realized, then I would have.
He added,
I think that America is harsher on women. I think that America is unfairly harsh on ethnic people.
We're curious and anxious to see what he does this year, and our fingers are crossed for an 'NSYNC reunion, because, duh.
TMZ caught up with JT's old band member Joey Fatone and grilled him for potential reunion details. Fatone responded,
We've done Super Bowl before... you know what, it's one of those things. Just like we did the MTV awards... You know, if someone asks to do it, if it's right, then we do it. If everybody can't do it, then we don't do it. It's pretty simple.
He also joked, "Hope there's no nip slip this time."
UGH, JOEY.
As for football fans, they just care about the touchdowns. We can practically hear them packing their coolers and ironing their jerseys as we speak. If I were you, I'd go stock up on guacamole and Bud Light Limes as soon as possible. You're not gonna want to blow this one.
Check out the entire Gen Why series and other videos on Facebook and the Bustle app across Apple TV, Roku, and Amazon Fire TV.