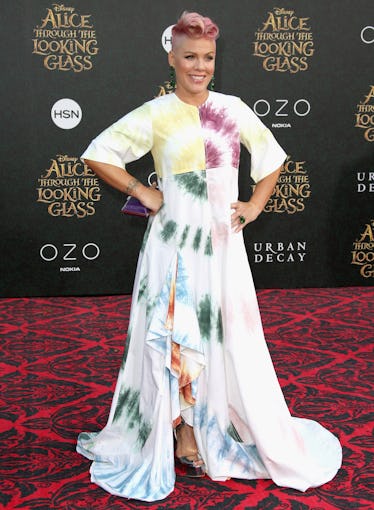 Pink's Performance At The Grammys Is So Different Than Anything She's Ever Done
Frederick M. Brown/Getty Images Entertainment/Getty Images
Pink clearly knows how to impress the music industry. From her slew of chart-topping singles to securing herself the MTV Video Vanguard Award in 2017, this longtime musician is no joke. The singer is well regarded for her hit music, but it's truly her live performances that have made her an icon in the music world. So, when Pink performed at the 2018 Grammys, we knew it was sure to be mind-blowing. And man, she did not disappoint.
Though she's known for her over the top performances, such as her 2017 AMAs aerial performance, Pink decided to take a subtler route this time. Appearing in a simple white top as a nod to organization Time's Up, a bright blue light overtook the stage, spotlighting Pink to be the center of attention. She stood alongside a sign language interpreter while belting out her single "Wild Hearts Can't Be Broken," which appeared on her 2017 Beautiful Trauma album.
Though no background dancers accompanied Pink this time around, no extra theatrics were needed for this performance. Instead, audiences were able to solely focus on her vocals, where she hit every seemingly out of range high note with perfection. Finally, Pink ended the performance by signing the song's lyrics alongside the interpreter in solidarity.
No bells and whistles this time around. Just Pink, a spotlight, and a microphone.
Simple, yet powerful.
With five studio albums under her belt, Pink's discography isn't one to fit into any typical genre. She released her debut album Can't Take Me Home in 2000, which included two top ten singles, "Most Girls" and "There You Go." It was 2001 where she scored her first Grammy award for Best Pop Collaboration for the iconic, girl power jam "Lady Marmalade," which featured fellow performers Lil' Kim, Christina Aguilera, and Maya.
Pink hasn't been a stranger to the Grammys since. Over her years in the music industry, the icon has earned consecutive Grammy nominations and a total of three wins throughout her career. It's safe to say she's one of the most iconic pop performers of the 2000s. And her Grammys performance helped cement it.
Her stage performances have earned her widespread respect among music audiences. During the 2017 American Music Awards, Pink performed her hit song "Beautiful Trauma" in actual mid-air, where she literally scaled a building only sporting a harness. The performance amazed audiences and though she seemed completely in control, she revealed how completely terrifying the experience was via Instagram.
Pink also slays at accepting awards. She was awarded the prestigious MTV Video Vanguard Award in 2017, where she relayed a story about her daughter believing she was ugly. She then delivered an empowering speech encouraging everyone to never let anyone else's opinions affect one's own self worth.
She said,
I said to her, 'Do you see me growing my hair?' She said, 'No, mama.' I said, 'Do you see me changing my body?' 'No, mama.' 'Do you see me changing the way I present myself to the world?' 'No, mama.' 'Do you see me selling out arenas all over the world?' 'Yes, Mama.' 'OK! So, baby girl. We don't change. We take the gravel and the shell and we make a pearl. And we help other people to change so they can see more kinds of beauty.' And to all the artists here, I'm so inspired by all of you. Thank you for being your true selves and for lighting the way for us. I'm so inspired by you guys. There's so much rad sh*t happening in music. And keep doing it. Keep shining for the rest of us to see.
So, when she's not gracing all of us with jaw-dropping performances, radio-blasting singles, and inspiring speeches, she's advocating for a number of different causes. Pink is a passionate advocate for PETA, having appeared in their 2015 "Rather Go Naked Than Wear Fur" campaign.
She also participated in the 2017 Chefs Cycle race, which consists of a three-day, 300-mile trek to raise money for No Kid Hungry, a nonprofit that aims to end childhood hunger in the United States.
In an interview with Refinery 29, Pink discussed her involvement with activism at a young age as well as her intention of exposing her children at an early age. Her son Jameson is already off to a good start, having attended the Women's March on Washington at three weeks old.
"I really like that idea, especially as a Virgo, and as a mom," Pink told Refinery 29. "I think its important to help them find their identity and find what they believe in, and to know they can make a difference."
No matter what the medium, Pink always delivers an incredible performance. We love you, queen!