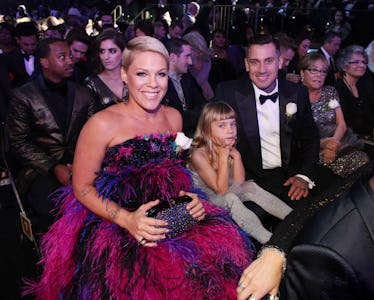 Pink's 2018 Grammys Performance Outfit Is Stripped Down In Solidarity With #TimesUp
Christopher Polk/Getty Images Entertainment/Getty Images
Pink might have arrived on the red carpet in a pink (and black and purple and blue) number adorned with a single white rose, but the over-the-top feathery gown didn't last for long. She quickly changed into something a bit more subdued. Pink's 2018 Grammys performance outfit consisted of a simple white T and jeans, but signified something much more important.
For her emotional performance of "Wild Hearts Can't Be Broken," from her newest album Beautiful Trauma, Pink wore a white, off-the-shoulder T-shirt, jeans, and no shoes. Her platinum hair was closely cropped and her makeup was subtle — just enough to make her features visible on stage and on screen. She stood center stage and sang her heart out, while an ASL interpreter signed her song beside her.
Pink arguably has one of the best voices in the pop music genre. She can belt practically any note with ease and always sounds clear, powerful, and healthy. Pink could lay on the ground absolutely still, just sing, and mesmerize her audience. However, in the past few years, Pink's shows and performances have involved much more theatricality. She loves (and is ridiculously amazing at) acrobatic silks, so she began to incorporate them into her shows.
The last time Pink performed at the Grammys, back in 2014, she sang "Try," sporting a coifed, volumized 'do and a lace leotard with rhinestones all while being suspended in the air.
This year's look illuminates the difference four years makes. In 2014, there was no widespread #MeToo movement being represented on national television. Now stars are showing that "Time's Up" and they're doing so with their voices and symbolically through their fashion.
Yes, Pink wore a white rose on the red carpet, but it's what she didn't wear during her performance that was more meaningful.
After her performance, a fellow writer on Twitter tweeted this deep message.
Following the recent "unlawful harassment" allegations against LA Reid, former chairman and CEO of Sony Music Entertainment's Epic Records, it's no wonder that fans are making the jump to think that the stripped-down outfit is Pink's way of showing her solidarity with the women of the #MeToo movement. (Elite Daily reached out to Pink on the report that her performance was inspired by Reid, but did not hear back at the time of publication. Elite Daily also reached out to Reid for comment on the allegations of sexual assault against him, but did not hear back at the time of publication.)
When Pink was 17 and actually known as tattoo-clad teenager Alecia Moore, LA Reid discovered her singing as a part of a girl group and encouraged her to go solo. She was signed to LaFace Records, the label LA Reid co-founded. LA Reid also reportedly suggested she clean up her image to fit into the box he was creating for her and to go to an etiquette class. Thankfully, Pink basically said "suck it," dyed her hair pink, and released her iconic Missundaztood album that went on to sell over 10 million copies.
Pink even references the incident in her song, "Don't Let Me Get Me": "LA told me 'you'll be a pop star,'" Pink sings, "all you have to change is everything you are." Pink was told she'd have to basically Britney-fy herself to get famous, but she stuck to her strong AF guns, stayed herself, and proved that you don't have to fit into a cookie cutter pop music mold to be successful.
Do you remember the "Don't Let Me Get Me" music video? Pink starts out on a soccer field and then in a classroom. We see that she doesn't quite fit in with the kids around her, because, duh, she's different and awesome. By 30 seconds in, we see pink wearing a white T shirt, looking into a mirror, singing, "I can't take the person staring back at me." At the 1-minute mark, we see an LA Reid lookalike pointing to a board with a pop star-making equation, while Pink sits on a couch in yet another white T shirt.
It's not exactly a stretch to think that Pink's Grammys outfit is an homage to her younger self, with fans thinking she's acknowledging the sexism she herself faced in the industry. However, even though fans are using this opportunity to call out Reid, it's important to note that Pink has not yet said one way or the other what influenced her Grammys performance, if anything. (Elite Daily reached out to Reid for comment on Pink's performance, but did not hear back at the time of publication.)
Whether Pink's white T shirt did have such a deep, complex meaning, or if it was purely coincidence, Pink's performance tonight showed solidarity. Just a reminder, our wild hearts can't be broken. As Pink sings:
There's not enough rope to tie me down.There's not enough tape to shut this mouth. The stones you throw can make me bleed. But I won't stop until we're free.
Sing it, Pink.