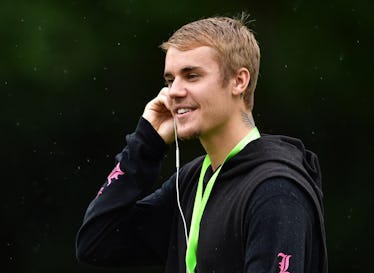 Justin Bieber Reportedly Wants To Start Acting & Beliebers Are Here For It
Stuart Franklin/Getty Images Sport/Getty Images
Hey, do you know Justin Bieber? He's a great singer with tons of albums and hit songs. Yeah, we like that guy as a singer. However, soon you could be referencing him by his acting career. You may be wondering — Is Justin Bieber acting? Not yet, but perhaps he will in the near future.
An interesting dinner date is what caused fans to start hinting at the idea that Bieber is trying to break into the acting world. The 23-year-old "Boyfriend" singer was seen out to dinner with the hilarious Adam Sandler and David Spade. A source told Us Weekly,
Justin Bieber asked Adam Sandler and David Spade out to dinner to pick their brains about breaking into the film industry. They had a great time! Justin had a lot of questions for them about the movie world.
It's pretty cool Bieber is doing his research. Let's be real — he probably has all the best connections in town. The source continued,
He is trying to educate himself about the industry and learn more about it. He wants to break into acting and directing/producing.
The bunch had dinner at Morton's steakhouse on Tuesday, Sept. 12 after the telethon for Hand in Hand: A Benefit for Hurricane Harvey Relief that was directed by Scooter Braun, Bieber's friend and manager. Meeting with Spade and Sandler could insinuate that Bieber is interested in the comedy genre, but it's too soon to tell.
Bieber has acted before and has made appearances in tons of TV shows and movies. Let me help you relive some of those moments.
Jason on CSI
Bieber had a two-episode run on Season 11 of CSI. He played Jason, a young serial killer, who was shot multiple times during an epic showdown with police after his plot to target them with bombs was foiled.
Rob Dyrdek's Fantasy Factory
In 2011, skateboarder Rob Dyrdek spent his day trying to get Bieber to live on the edge. They had all sorts of foam pit fun and Dyrdek even gifted Bieber a personalized... go-kart? Mini-car? Some sort of toy with four wheels.
Zoolander 2
Justin Bieber may die in Zoolander 2 faster than he appears in it, but that doesn't mean his performance wasn't successful. Bieber giving his best Zoolander is pretty spectacular.
Saturday Night Live
Bieber always looks like he's having a good time when he guest stars on SNL. I particularly like this duo performance with Tina Fey. I actually don't miss the signature Bieber hair as much as I thought I did. That's why we have everything on video these days.
Punk'd
Although Bieber didn't have to do any intense acting during his episode of Punk'd, let us never forget when he Punk'd Taylor Swift. This is probably when the line, "I got mine now you'll all get yours" was born.
After all these appearances, it's really not a surprise that Bieber would want to try his hand in acting. Reported by Us Weekly, Bieber has actually opened up about his desire to act as early as 2015. During an interview with V Magazine in January of 2015, Bieber said,
I'm still young. I still have so many personal and professional goals I want to achieve. I want to keep creating music for my fans. One day, I hope to make strides into movies and fashion as well. I want to share my creativity with the world.
Whether Bieber does take the remainder of this year to break into the acting world or it happens in a few years — Beliebers are here for it.
Real talk, Bieber's "Marge" Snapchats are definitely favorites among fans. I really don't mind the idea of Bieber acting — I think he may be pretty good at it, based on his previous appearances.
Whether you are for or against it, you have to admit Bieber is talented. If you can't think of one Justin Bieber song you love, you're totally lying. Good luck on your next chapter, Biebs.
Check out the entire Gen Why series and other videos on Facebook and the Bustle app across Apple TV, Roku, and Amazon Fire TV.