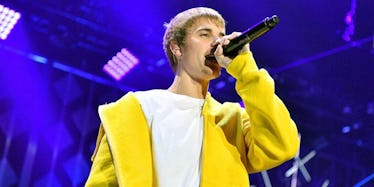 Justin Bieber Canceled His 'Purpose' World Tour And Fans Are Heartbroken
Getty Images
Justin Bieber has announced that he will be canceling the remainder of his Purpose Tour. Bieber has already performed 154 shows over 18 months, but has called off the remaining dates. Bieber's team gave Elite Daily the following statement to explain why Justin Bieber is canceling his Purpose World Tour:
Due to unforeseen circumstances, Justin Bieber will cancel the remainder of the Purpose World Tour concerts. Justin loves his fans and hates to disappoint them. He thanks his fans for the incredible experience of the Purpose World Tour over the last 18 months. He is grateful and honored to have shared that experience with his cast and crew for over 150 successful shows across six continents during this run. However, after careful consideration, he has decided he will not be performing any further dates. Tickets will be refunded at point of purchase.
Bieber has not yet commented on social media in response to canceling the tour.
Bieber is known for being great to his fans, so the cancellation came as a shock to most people. Although there are a lot of disappointed fans, many people are rallying for the singer and expressing their support.
The Purpose Tour kicked off March 9, 2016, and has expanded over six continents.
Fans are definitely sad Justin Bieber canceled his Purpose World Tour.
However, people are grateful to Bieber for giving the past year of his life to this tour.
Lots of love is being sent Bieber's way.
Seriously, since when is the internet so sweet?
Bieber recently made headlines after being banned from performing in China. The Beijing Municipal Bureau of Culture said the ban was due to the Canadian singer's "bad behavior."
Although it seems alarming, this is not uncommon for China to ban foreign artists and performers. Maroon 5 and Oasis faced similar circumstances.
While it's very un-Bieber to cancel shows, I hope everything is OK with the artist. I'm sure he will shed some light on the situation very soon.